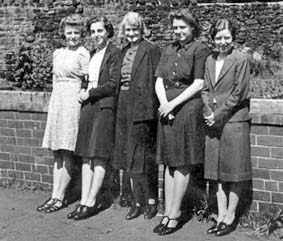 Joyce on left outside Crossley's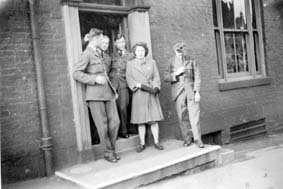 RAF 'digs' Church Bank, Bolton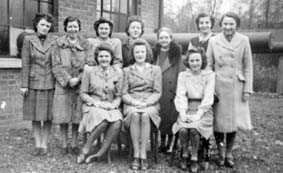 Office Staff 1944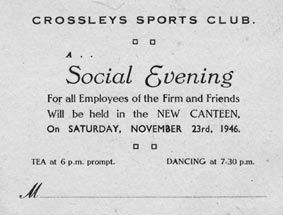 Crossleys Social Event
Wartime at Crossley's
To see information on Henry Crossley (Packings) Ltd in an exhibition in Bolton Museum by Bolton Revisited was so exciting, especially as Henry Crossley himself was on the photograph. His two sons, Arthur and Tom, were in the business as well.
I joined the firm when the war started and stayed for 10 or 11 years. Fortunately I had passed my school certificate and was ready to leave school but I had to get a job before I could get permission.
My first job was at ACDO but after a few weeks, Miss Hoyle, Headmistress at the Municipal Secondary School, called at my home and said I could have a job at Crossley's - I jumped at the chance.
The office staff worked in the cottages in front of the mill and we had sticky tape on the windows and very creaky stairs which Tom used to good effect.
We didn't see much of Mr Henry but Mr Arthur and brother Tom ran the whole show with Mr Jackson, the company secretary.
We knew we were involved in the war effort especially when two Russian officers arrived (chauffeur driven) and when Mr Arthur received the OBE, although war seemed so remote to us in our late teens, and not having TV etc.
I remember the New End being added on the mill and before machinery was added, we went in there at lunchtime, roller-skating.
One of the bosses in the works was Herbert Walker and I got my introduction into opera through him. He had a wind up gramophone which he played at lunchtime so every time I hear 'Oh My Beloved Father' I always think of those days.
We were happy - the realisation of what war was all about didn't reach us then (but it has now.)
I remember walking home from dances at Bolton Palais with Harold (Army Officer) and cousin Bernard (Naval Officer) and was amazed to learn that Harold finished up as a teacher in New Zealand and both he and his younger brother Harry have died. Very saddening.
The factory in the Mop was isolated - but we had no fears. I went home for lunch and ran back because we were paid an extra 3/- on our wage if we weren't late, and got double holiday money if we weren't late more than 3 times in the year. I flew down the hill past Eden's Orphanage and my friend (Kathleen Farnworth) would be waiting for me on the bridge over the river, and would dash to clock me on (but that's a secret.)
When the canteen was built we had dances and the cousins from Morecambe way would come over (Bernard and his brother).
We were very happy after the war.
Mr Arthur went to America quite often and to Europe on business and always brought us little souvenirs. (I've still got a little hanky from then).
I am so sad to read that the mill is going to be demolished and the lodge filled in - that's progress I suppose.
I recognise a few people on the photos - but not myself!
I've sent copies of photos and writings to Mary Simkin, a friend at work, who now lives in Devon.
My friend, Kathleen Farnworth, who started at Crossley's a few months after me, died a couple of years ago.