The Beginnings of Wrestling in and Around Bolton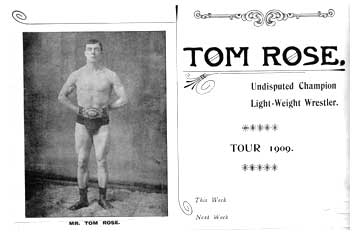 Training on Southend Beach before the Paris Olympics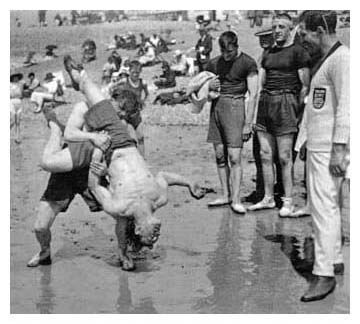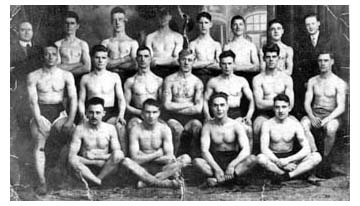 In the year 1890, a few lads started to find the Wrestling style of "Lancashire-catches-catch-can" a great sport. In the summer time they decided to get together and fought on grass in the Parks and the green field behind The Gibraltar Rock public house situated on Deane Road.
The people I remember are Tom Rose, H A Wright, Robert Hewitt, Miles Sweeney, Benny Lomax and Arthur Sherwin. These were the grass roots for Bolton. Due to the sport taking off so well they obtained the cellars in Noble Street, on Deane Road. Their mat was some old flock mattresses which had to be sewn together using buttons and thread. If you were unlucky enough to land on a button when thrown you knew it and usually had a few sore spots for a day or two.
After a few years in the cellars the YMCA asked them to amalgamate with them. It was from the Y.M. that Tom Rose became undisputed Champion (Light Weight) 1909, winner of the World Championship at Henglers Grey Tournament, winner of the National Sporting Club Championship belt, which was presented by Lord Lonsdale at the Alhambra Club 1909. H A Wright was one of two fighters to go to the Olympic Games held in Antwerp 1920 and he made everyone proud by winning a Bronze Medal.
Robert Hewitt just failed to qualify, but was rewarded in 1924 by winning the All Lanes and Midland Titles thus allowing him to attend the Olympic Games in Paris in 1924.Both men won Honours in the 1914-18 War. Wright served with the RAMC and Hewitt with the Royal Highlanders.
Hewitt received a shrapnel wound to his shoulder yet he carried on to Paris with his regiment and fought with it still embedded. 30 years on Hewitt went into Hospital in Bolton, he was given X-rays were the Shrapnel was found below his breastplate were it had travelled over the years.
In 1908 J W Foster founded the Bolton United Harriers and Athletic Club which was located in Burn Street. This was just a house but still, great things came from it. Not until 1923 did Foster acquired land in Bridgeton Street, where he had a larger club built with a tin roof. It was from here that "from little acorns grew mighty oaks" with wrestlers joining the club. This was a good day for Wrestlers and Runners alike. J W Foster was champion runner from 1923 to 1925 along with such great names as C B Holmes who competed in the1936 Olympic Games, Ethel Johnson in the 1932 Games. Nellie Halstead, who appeared in the 1936 Games was also a sprinter and Captain of the Women's England Football Team. The club had two Doctors who were on hand when required.
In the twenties and thirties the club became an established, solid rock in the wrestling world and this was the recognised beginning of the club. Over the years came unemployment and the likes of Tom Mcguffie would fight "on Lark Hill" in Farnworth, for bets, arranged in the pub the night before. Miles Sweeney, who couldn't find work in the UK after WW1, left sunny Bolton and worked his passage to the good old US of A. He only had a few dollars, and so slept rough under the magnificent Statue of Liberty for a few weeks. That was until the circus arrived in New York!
Barnhams, like the many of the original old time fairgrounds with bearded ladies and the like, had boxers and wrestlers at the front of their shows, and anyone was welcome to attempt to challenge 'Barnham's Boy' to three rounds. Miles tried this against a twelve stone wrestler - and to everyone's amazement, he won! Mr Barnham was so impressed by Miles that he invited him to stay with the circus, to travel the USA and to earn enough dollars to make his way home. On his arrival in the warmer climes of Bolton he became the landlord of the 'Middle Ale House Pub' in Foundry Street near the Bridgman Street club!


| | |
| --- | --- |
| | |
| | |
The four more recognised wrestlers of this era were Sonny Darby, winner of the Bantamweight category at the Olympic games in Berlin (1936) and Lonsdale belt winner, Jim Crompton, fly weight champion in 1935 and also a belt winner, Johnny Nelson, lightweight, won silver in Los Aangeles in 1932 and yet another belt holder, and Sgt Ted Weakes of Bolton police, a belt holder and northern area champ.
The club kept up its good name throughout the second world war, and we inevitably lost some of our lads, but there was a change occurring at the club. All in wrestling was becoming popular, and it seemed that this could generate some cash, so enter the likes of George Gregory, Jack Pye, Joe and Jim Reid, Johnny Nelson, Big Bill Garner, Les Faulkner, Tommy Fox and Jim Foy.
We were still left with some very good amateurs, trained by experts like Jim Crompton, Sonny Darby, Young Sherwin and Tom McGuffie. Wrestlers like Walter McGuffie shone through to win British Fly weight champion seven times, no mean feat, and a record to be proud of. Also winners of the Bantamweight category were Jack Crompton, Bill O'Hara, George White, and Les Cheetham, with McGuffie and Cheetham going to the Games in 48 and 52 respectively.
Since then many more have entered the coveted Olympic Games but I am forced to stop writing because there would be just too many to mention! I could also tell you many individual stories about many Bolton-born Wrestlers, but alas they shall have to wait.