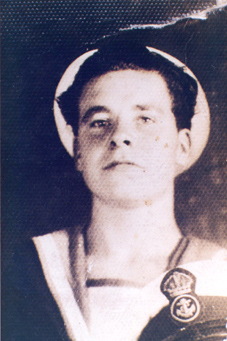 Tom McFarlane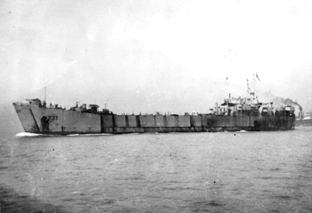 Tom McFarlane - A Night at the Opera
Tom McFarlane was born in Bridgewater Street Farnworth, near Bolton in 1924. When he was 18 he voluntarily joined the Royal Navy, having first been in the Home Guard. After his initial training, he went on a course on anti-aircraft guns, and finished as Able Seaman gunner. This was his war.
"First of all I sailed on The Empress of Scotland to America and by train to pick the ship up at the Missouri Shipbuilding Yard, Evansville, Indiana, USA, where we collected the landing craft I was to serve on. From there to Philadelphia to collect troops. These were then taken to Oran, and Bizerta in North Africa. I had to take a small boat into Bizerta to drop off two officers and by coincidence I met my next door neighbour from Bridgewater Street there - Joe Wild. I was serving on landing craft LST237 and Joe was in the airforce and Tom's cousin Peter McAtee from Bridgewater Street was on LST410. Joe became of course a well known Councillor in Farnworth and a well known Mayor of Farnworth and Bolton.
From Bizerta we went to Sicily and Italy to land troops. We took American Rangers (who all thought they were going back to the states) to Anzio. Anzio was worse than D Day and Omaha in some ways. When we dropped them off at the beach, the Germans were caught unawares and they all ran ashore without any shots being fired. Three days afterwards they were all killed or captured.
At Anzio we discovered we had a stowaway, a young Italian boy of about 12. He was the Americans mascot, and they had fitted him out in a uniform. He thought he was going to America. We took him back to Naples.
After that we landed troops at different ports near Naples and were often fired on. There was a gun at Anzio called Anzio Annie which shelled all the ships. We were attacked all the time by aircraft and I was credited, by the officers on the bridge, with shooting one enemy plane down.
When I was on gun duty a bomb dropped near me and I suffered back injuries in the blast. There were no doctors on board and I merely received first aid in the sick bay, only going into hospital later. From Anzio we leapfrogged to the East Coast dropping off troops from the 8th Army. We then went in a convoy round the Adriatic dispersing because we thought that there were guns ready to fire on us. U boats were everywhere and we had to unload troops, collect prisoners and refugees. Anzio was like trench warfare, the troops were shell shocked, unable to hold a cup of tea or cigarette, after their experiences. Coming back from Anzio, a shell damaged the steering and we had to hand steer to Taranto for repairs. We went back to Anzio and then left for D Day.
A buzz had gone round the ship that we could pick anywhere we liked to go to because we had done so well. But our mission was D Day.
We formed a convoy in the Bay of Naples and in the background we could see Mount Vesuvius erupting from miles away. What a sight, ash and lava, - very beautiful. In Naples the people were starving. We gave them food from our gash bin, where we kept unwanted food.
One night we had a wonderful experience. The Metropolitan Opera Company put on a show for us, on a stage on the tank deck. Men from other ships came to watch and listen to these marvellous singers and in exchange for the show we gave them provisions, food and cigarettes. It was fantastic and I have liked opera ever since. The Italians were starving, but they were always singing, and you would often hear a mandolin, or squeezebox. Small boats came near the ship with people singing and playing.
From Naples we went to Casablanca, picked up troops from the French Army and took them to Swansea. From there it was on to Harwich to get ready for D Day, June 6 1944 from Harwich we sailed with trucks and troops, and then to Southampton. From there we sailed back and forth to different beaches and towed the barges that would be scuttled to make breakwaters for the Mulberry Harbour. We then took the merchant navy men back to England.
At the end of the war I finished up in hospitals because of my back. I was declared unfit for anything, demobbed and given six months to live. I was glad to get back to Farnworth. There was such camaraderie and friendship there, especially in the Bridgewater Street and Kent Street area where I lived. I had friends for life there.
Tommy's brother Joseph served with the 8th Army and won the Military Medal in Tunisia. His father was wounded twice in the First World War. His four older sisters worked in the Chloride factory in Clifton on munitions.
Click here for more about Tom's life