A Lucky Escape
I was born in Bolton on 28 July 1920.
I was in the Merchant Navy in May 1940. I was on the M. V. Highland Brigade, sailing from Tilbury to Buenos Aires. It was a refrigerated ship, and we filled up with beef and took it back to London. We did the same trip again but unloaded at Liverpool. En route we picked up survivors from another ship, the captain and seven men, but only three survived the voyage, the others, including the captain were buried at sea.
My next ship was the City of Lincoln, bound for Malta from Liverpool. We did not know until we got on board that the cargo was petrol, stored in drums, destined for aircraft stranded in Malta. We sailed in a convoy with other ships but there was no escort until we got to the entrance to the Mediterranean at Gibraltar. Some of the ships broke away, bound for the Cape. Destroyers and an aircraft carrier then escorted the rest of us. My ship was at the end of the line, just inside the Mediterranean, when Italian aircraft firing torpedoes attacked the convoy. The ship in front of us was hit in the stern, lost her rudder and had to be left on her own. We got to Malta safely, offloaded our cargo and stayed there for a week.
We returned empty through the Mediterranean, with our machine guns covered, and did not fire a shot until near to Gibraltar. An aircraft came right over, the captain spotted it and quickly turned the ship. The plane dropped torpedoes and we ran to the other side of the ship to avoid them just as the ship swung round. The torpedo went right past us, going right alongside the ship. If it had been fired 30 seconds earlier we would have been sunk without trace. That was a lucky escape!
After that we called in at Gibraltar and then sailed to New York where we collected a cargo of aircraft and made our way back to Liverpool and offloaded. We then loaded a cargo of tanks, 6,000 lb bombs, and ammunition for the Middle East. Just north of Ireland, we joined another convoy of ships from Glasgow, but we hit very bad weather. The ship was rolling from one side to the other, the tanks which were all loose, crashed about in the hold causing damage to the hull. We had to return to Liverpool to unload all the tanks.
A fortnight later, new tanks having been loaded on board we once again sailed around Africa, through the Suez Canal to Alexandria where the tanks were offloaded for the 8th army in the desert.
We then sailed with the remainder of our cargo and joined a convoy bound for Malta. Our convoy sailed about halfway to Malta, when it turned round and sailed back towards Egypt. We later found out we were a decoy for another convoy which had sailed from Gibraltar to Malta. We repeated this operation several times, and on the fourth occasion we were attacked by German "Stuka" bombers sinking a destroyer. Fortunately we were unharmed. Yet another lucky escape!
After returning to Alexandria, offloading all our cargo we returned down the Africa coast calling at Durban, Port Elizabeth and Cape Town. We were loaded with a cargo of gold bullion bound for New York without any security. After an uneventful Atlantic crossing we arrived at New York where the gold was off-loaded with guards and guns everywhere.
My next ship was the City of Glasgow, a real old timer. The steering was by chain, my sleeping quarters were right underneath the chain and it was very noisy. On one trip to Montreal, one member of the crew went ashore, and returned. The next day he was found dead with food poisoning. It was not the ship's food which was to blame, but of course no one knew where he had eaten ashore. We came back in a slow convoy. There were one or two other attacks at sea but never any thing like my lucky escape on the City of Lincoln. When we arrived back in Manchester via the ship canal I was very glad to get off the old City of Glasgow.
I sailed on my next ship, the City of Cape Town for 4 years. I saw the world and travelled a million miles, a long long way from Sutcliffe Street, Bolton where I lived, and the Wolfenden Street School I attended. My brother Stanley was in the Army arriving in Singapore on the day it was overrun. He was then a prisoner of war.
My other brother, Arthur Catherall, was a prolific author, who wrote books and stories for all age groups, but especially for children. He served in the RAF from 1940-1945, working as a writer for them during the war.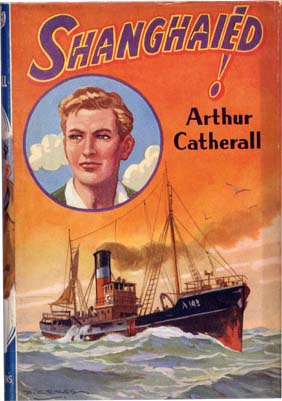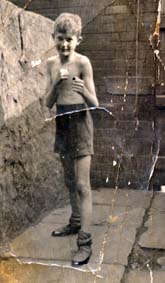 Norman Catherall, World Champion of Sutcliffe Street, Bolton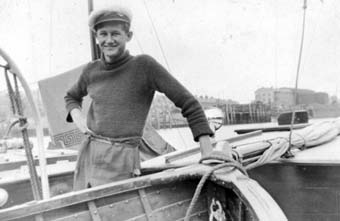 Norman on the Lady Lou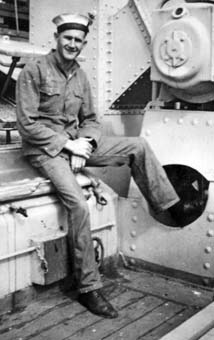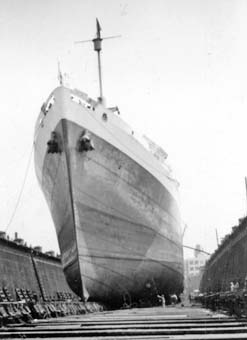 City of Lincoln at New York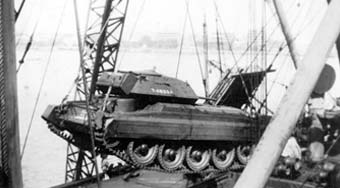 Tanks on board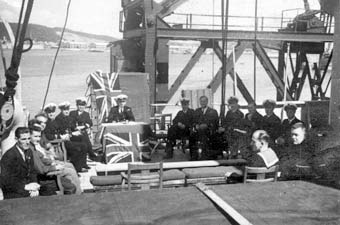 VJ Day on deck at Durban, South Africa