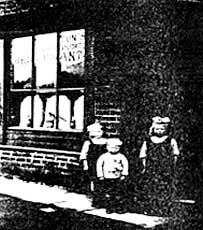 Hilda, Ethel and George Worthington outside the old Chip Shop on George Street
Years Ago
Years ago New Bury was a place people came to. It was nice, you could go for walks over the New Bury fields. It had its characters like old Mr Watson the fruit and veg man. When he used to come round it wasn't just a place to buy your veg, it was a place to meet your neighbour and talk. Then there was Laura's shop, (little chubby Laura) you got your pies there and what you run short of.
Everybody worked at the Century Mill, (it seemed at the time) it was expected of you, but you didn't care you were with friends.
Then gradually unemployment came and things started to change. There has always been unemployment but over the years it's got worse and worse, until many of the people in New Bury today (and a few years ago) don't know what it is like to work. A lot don't want to work they've got used to it so New Bury has got run down. Being at home all day makes you complacent, money is scarce when you are on the dole. This means money can't be spent on maintaining the house and gardens, so New Bury looks a bit of a dump. The crime rate went up, burglaries and such. Buildings were pulled down and not much put in its place.
One good thing is they got rid of the coal yard and built a housing estate, plus they are now building old peoples flats, and the council has modernized all the houses, so gradually it is looking a bit better.
A lot of you think the people of New Bury are a waste of time and they don't want work. But then they open a community centre. They run courses (which are free) on different subjects. The people of New Bury come to learn a thing they thought they would never be able to do. Some of them do two or three different subjects. They really look forward to the lessons. I'm the caretaker so I see it all.
In time this (I believe) will tell on the district of New Bury. If a person has an active mind it will tell on the area itself.
At one time you could go out in peace knowing you would be okay, your house would be okay and so would you, who knows it could be like that again. New Bury again could be a place to come to, not a place to leave.