Mending Clogs
One of my earliest errands was for our Joe. He had an old pair of boots with good tops, which he carefully removed. He sent me down Great Moor Street where the employment exchange is now. I went in a big room, very dusty and dirty, and collected a package containing one pair of wooden soles, a set of clog irons, a piece of leather, a piece of tin, some tacks, and clog iron nails. The clog iron sole had a ring and when you knocked the tacks in they fitted. You had to tap the top on first with tacks. You used a strip of leather ¼ inch wide and started at the front working all the way round. At the front you put a piece of tin on to cover the joint up. Clog irons were soft metal. You had to shape them, hammer them to the shape of the clog. He got a new pair of clogs for 1/6.
The clogger's shop is a special memory for most people. It was invariably ill lit, with the dust of years everywhere, and the aroma of real leather. On a wooden bench customers would wait in their stockinged feet.
Old joke
Owd Chummy discovered an old ticket for a pair of clogs he'd left for repair and forgotten about. He looked at the ticket. It was two years to the day since he took them in. He called round to the shop on his way home from work.
"I don't suppose you've still got these", he asked, handing over the ticket. The clogger searched for a bit and triumphantly produced the clogs. "There you are Chummy, still here safe and sound. They'll be ready a week on Friday".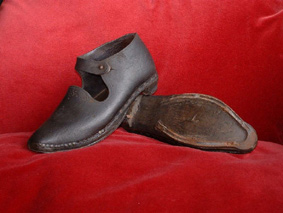 Clogs belonging to Sarah Alice Warren (nee Bullough), who worked at Greensmiths Mill, Westhoughton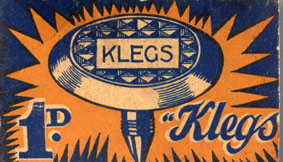 A box of Klegs Boot Studs