A Life Full of Laughter
Music and Laughter from Farnworth to Toronto
The story of Maurice and Trudy Lane from Farnworth. Maurice was a professional entertainer, musician,and ventriloquist. He appeared with his sisters, with Trudy, and as a solo performer.
Dedicated to Maurice Lane (1920-1996)
Childhood
My real name is Gertrude. My mother used to love an opera singer called Gertie Gitana. She had the bright idea of calling me Gertrude after her but everyone calls me Trudy. I was born in Starcliffe Street, Farnworth. That part of the street is pulled down now. It was on the edge of Bull Hill Lodge. My father left us and my mother brought us up alone.
I went to St Michael's School. I had a brother called John Brown who died aged 7. Children at the school still run for 'the John Brown Trophy'. Then I got what you might call a scholarship to Folds Road. I remember my older brother telling me one day about a boy there who was a great footballer. His name was Tommy Lawton.
| | | |
| --- | --- | --- |
| | | |
| Trudy aged three | Trudy c.1924 | Trudy, bottom left, at dancing school 1933 |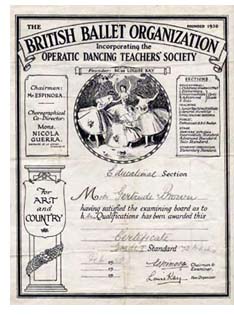 Dancing
From my early days I just remember dancing. I danced at St Michael's. I danced for the school at assembly on my last day at school. Two teachers were going to get married and they called me in at playtime to dance for them. I won a silver medal for the Charleston at the Queen's Theatre Farnworth, which was later named the Ritz. I think I was eight. My mother bought me just an ordinary short dress from Sam Taylor's on the corner. I was very tiny, a small kid. I couldn't keep still; all the time she was talking to someone I was dancing. So she found me a teacher, a ballet teacher. I loved it, and I did everything, - acrobatic ballet, you name it, I did it. I was always doing solos. My teacher thought I was good enough to go to Manchester to meet Mr. Espinosa. He was a big ballet organiser. I went there and got my BBO, British Ballet Organisation certificate. I got 72 marks and I was only 14. I also played the piano. I only played by ear but I was good.
Maurice
When the war came I had to go working at De Havilland down at Lever Bridge. I trained for this work at Bolton Tech. I was on a lathe, which was heavy work. I once met the Dambusters pilots. I worked on Spitfire blades, and while I was there, I noticed there was a young man looking at me. His name was Maurice Lane and he was from Daubhill. He was my future husband. He had a French mother and his father met her in the 1914-18 war. We got talking and I found out he had four sisters and they were like me, dancers from being kids. They all had French names - Nenette, Yvonne, Manuela, and Donia, and of course their brother was Maurice. It was amazing we were so alike. One day he said he was starting up shows for the workers. We both sat at the piano one day and he started playing at the top, and I played at the bottom. It was like we had been together forever. After that we could play anything without music. We played for charity and did all sorts.
George Formby
Maurice was a George Formby look-alike. Maurice had the voice, and the looks. Often we were followed and people would say, "Is that George Formby?" Kids would follow us everywhere. His voice was just like George's. He was doing this when he was very young and he once got a letter from George Formby's wife saying he couldn't do his songs. It was sent to his mother. There is also another letter to his sister asking them to come and see a newcomer called Peter Sellers.
| | |
| --- | --- |
| | |
| Maurice as George Formby | Letter from Beryl Formby - wife of the real George |
Once we were doing a show at De Havilland, and he didn't tell me what he was doing. He got someone else to accompany him on the piano. He was dressed as George Formby with his ukulele, but he'd written all about the bosses, which was not good. When he rehearsed the woman couldn't play for laughing, so he knew I couldn't. And it was very funny. Afterwards the applause was outstanding but the bosses sent for him. The supervisor couldn't look at him for laughing but they told him they were going to move him to another dispersal unit. I was asked to do the shows in his place, but I said no. The workers were going to do a sit down protest so they had to bring him back.
Trudy and Maurice at the Grand Theatre
He took me to Southport once and he had his ukulele with him. He rowed to the centre of the boating lake, put the oars down and sang to me. It was so funny. That was how he was and he was absolutely brilliant. Maurice did many laughable things. We were out one day when we were courting, and a dog was following us. He turned round and chased the dog for blocks. A scraggly fellow chasing a dog. Once he was late for the bus and he ran after it, but it stopped and he ran slap into it.
ENSA
Then he got an invitation to join ENSA, the Entertainments' National Service Association, and he passed easily, but Ernest Bevin, the Minister of Labour introduced conscription for men to work in the coal mines and Maurice was one of these 'Bevin Boys'. He had to go for six months. I used to hear from friends in the theatre with ENSA working with big stars like Frankie Howerd. It was a big disappointment. He worked with men from all walks of life. He even trained a mouse in the coal mine, and he also trained a bird. He got lost down there at times but I'm not sure which mine he worked in.
Marriage
We got married in 1948 and lived in Tonge Moor, and I worked at Tootals for some time. Maurice was professional and his sisters too. There was a lot of travelling and I stayed at home with his mother. Maurice and all his sisters were born in Farnworth and lived in a house called the piano house, right up Plodder Lane. It was on Lever Edge Lane perhaps and was shaped like a piano. It had been a sort of farm.
| | | |
| --- | --- | --- |
| | | |
| Business Card | Maurice training our budgie | A well deserved drink |
The Lanes
Maurice's sisters were singers, and toured as the Lane sisters. They also worked as the Lane Family, and we worked as Maurice and Trudy Lane. The Lanes also worked in circuses. He got two contracts for summer shows in Blackpool. The first one was with Joseph Locke, Jewel and Warriss, and Julie Andrews. It was called Coconut Grove, and it was all Latin American, It was terrific, great theatre. He appeared with his sisters all over. The theatres closed in Farnworth but he appeared at all the vaudeville theatres in Bolton, including the Odeon and the Grand. At the Odeon he played the piano accordion. He went everywhere, and appeared with lots of stars. One day there was a knock on the door, and there was a man with a big red car. He just said "Come on Maurice, you are coming with us." "Where are you taking him", I said. "He'll tell you when he gets back", was the reply. He was taken to a huge party to entertain people. The man with the car owned Coates Cotton. Everyone knew Maurice, he was fantastic.
| | |
| --- | --- |
| | |
| The Five Lanes | Trudy (at centre rear) with the Lane Sisters |
| | |
| --- | --- |
| | |
| The Lane Sisters | The Lane Sisters in front of Buckingham Palace |
Canada
Eventually Maurice's Dad decided that they would go and live somewhere else. He opened up a book and saw a ham and it was from Canada, so he said, "We'll go there". They went but we had a house in Bolton. They did well and so we followed them to Toronto in 1955. I was homesick and especially on Sundays. Maurice was OK because he was with his family. Maurice was a professional entertainer in Canada. When I heard anything British, like Land of Hope and Glory, I got homesick. My mother-in-law said to me, "Why don't you look for a job?" First of all I went to a ballet shoes shop where I could have worked, but then went to a big Toronto department store called Simpson's. I got a job and I was there until 1958 when Bill, my son, was born.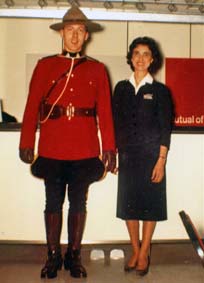 Trudy and Mountie
The Airport
We got a house near the airport, and I got a job at the Foreign Currency exchange. I was there ten years and was made manager of three exchanges, with 14 staff, and I had to train everyone, of all nationalities. I loved the job. I met movie stars nearly every day. I used to look after stars, and they got to know me. I was there ten years, but it took up so much time. We sold gold, and I always had to be there with the bonding agent if any gold came in. I was also on call at night. I decided to finish. I was given a huge banquet, and we played the piano up in the airport's Aeroquay lounge.
My son Bill's Memories of My Airport Job
'Back in the 1960's, the entire terminal would be buzzing with intrigue whenever an Aeroflot jet made a non-scheduled landing there. The passengers were not allowed to talk to anyone, but one of them broke away from the group for a second on one occasion to give my mother a Russian coin as a gift, managing to say a quick "For you" before rushing back over to the group. My mom sure has her tales to tell of film stars she met in Terminal 1 during the wee hours of the night when they were in transit: exchanging a few words with a tired and jet-lagged Barbara Stanwyck in an empty terminal building with few other souls around than a cleaning crew was just one of the brief exchanges she told me about. Beatle (Paul McCartney or George Harrison) once slammed into her while high-tailing it out to his gate, yet had the presence of mind and courtesy to give her his most profound apologies for the incident. Judy Garland needing to put in an urgent phone call to Liza; Johnny Weissmuller (Tarzan of the 1940's) and Colonel Sanders of KFC fame also left lasting impressions. A particularly funny character was Clarence Nash (the voice of Donald Duck) who conducted his entire business transaction with her in his unmistakable cartoon duck voice and even invited her out to the gate to meet his wife who was sitting out there wearing a straw hat. The list goes on, as do the amusing tales. Her autograph book was filled up mighty fast.'
Bill Lane
When my son Bill was in his nappies Maurice taught him how to hold a spinning plate and his Grandma taught him how to balance a ball when he was only two. He also displayed a keen interest in music from a very early age, particularly on the piano. He once played God Save the Queen at a school assembly when he was only 5 or 6 and took piano lessons from the wife of the percussionist of the Toronto Symphony who lived just round the corner from us. When he got to junior high school he took up the cello and excelled in it. This led to his playing in the school orchestra and performing with them at various functions.
| | |
| --- | --- |
| | |
| Bill Lane auditions | Bill meets Charlie |
| | |
| More plate spinning | Bill and Maurice |
With my career at the airport foreign exchange counter and his father's at the McDonnell Douglas Aircraft assembly plant, Bill spent most of his childhood around planes and this led to an interest in airplanes as well as foreign languages after receiving a brochure from Greenlandair in 1974 that was printed in Danish and English. He then found his calling to be languages (particularly the Scandinavian ones), and music would forever take a back seat to languages after that. He took a Bachelor's Degree in Norwegian and Finnish at the University of Iceland. He now lives in Denmark and speaks Danish and Icelandic fluently and has left his post as a Danish teacher to become a freelance Danish-English translator. He still has a solid command of what he terms "World War 2 Lancashire", the dialect he was raised on during his early years in Canada and which he still communicates with me in to this day. He furnished the wordlist of the website "Lancashire Speaking" with some local Lancashire jargon he had learnt as a child.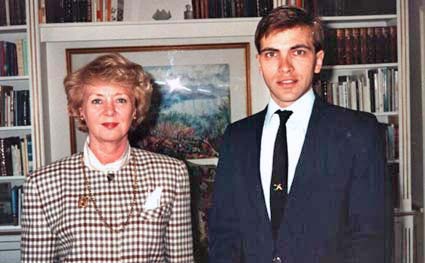 Bill with the President of Iceland
Bill has also been enthralled with the American TV sit-com Bewitched since he was a child. Coming from a musical family, he developed a keen interest in the show's music and sound effects which finally led to him being "the unchallenged authority" on the topic at Harpies Bizarre, www.harpiesbizarre.com, which is an informative website on the series.
Federal Government Work
I said to Maurice I'd better go and check in that I've given up work. They sent me to the Federal Government to the Finance Dept. seeing to immigration. I was there 10 years. When I was 66, I'd done a year extra, and they asked me to do another year. I wouldn't. Maurice was ill, and for ten years we went nowhere.
Back to Farnworth
When Maurice passed away it was horrible. After he died in 1996 I looked at the house and thought it is a house now, not a home, so I came back to Farnworth. I sold my house quickly. I did everything myself and I was 80. I am 86 now. I came here in 2000. Here I am close to my family, to my nephews and niece and only a short hop from Bill now so we visit each other often. Maurice had a George Formby ukulele marketed by George with his image on. Every time I looked at it in Farnworth, it upset me. I belonged to the George Formby Society then, and through the society I sold it.
The Melody Lingers On
Maurice is buried in Canada, and the headstone has a piano on it. On one side it says Maurice Lane, wonderful husband and father, on the other side Gertrude, and my name is adorned with musical notes. This is where my ashes will be. Underneath is carved 'the song has ended but the melody lingers on'. On George Formby's grave it says 'the songs are ended but the melodies linger on'. I didn't know about that at the time.
My life has been laughter.