Rudolf Hess and National Service
I was called up for National Service in August 1950 and did ten weeks training at Saighton Camp in Cheshire. From here I went to Berlin with the King's Liverpool Regiment. I was picked to do a month's guard - two hours on and four hours off for 24 hours. Then I had 24 hours off duty and was then back on guard again.
There were seven prisoners in Spandau Prison, Berlin one was Rudolf Hess. We were forbidden to talk to the prisoners. Although I used to say hello to him, as he got to know me he asked for a cigarette, which I gave him.
In the guardroom was a magazine called Post, there was an article in there about Hess and the other inmates. It said that they were keen gardeners and they had an apple orchard - this was not true.
Although I was not quite sure what he had done in the war, I felt sorry for him because he was an old man. I gave him cigarettes every other day because he was not allowed any. I often think of him now...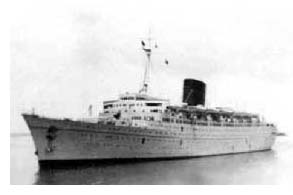 After two months in Berlin I was sent home on two weeks embarkation leave. I was then told to report to Chester and then to Liverpool and we all sailed to Malaya on the Empire Halliday, a Troop Ship.
We docked in Singapore after 6 weeks at sea, we went to a camp in Singapore and undertook six weeks of Jungle Training. We changed our cap badge to the Manchester Regiment and then went to Changy Prison, it was now a barracks for soldiers from the company. I was sent to Kulum which was our base camp. We went on four or five days patrols in the jungle looking for terrorists until April 1952.
I was then sent to Tiaping, this was the headquarters for British Soldiers in Malaya. I carried out guard duty and also I achieved promotion.
In August I was demobbed but had to do three years and six months in the Territorial Army with the Loyals at Fletcher Street Barracks. Then I joined the Bolton Artillery and served for 11 years. I retired in 1966 as M T Sergeant.
My service number as a National Serviceman - Jack Dixon 22393557