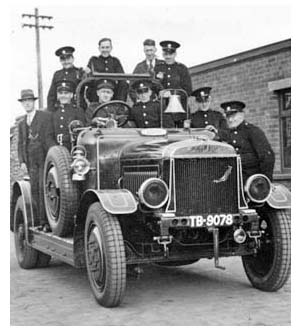 Edith the Fire Engine
All the Farnworth Fire Brigade engines were given names and this is Edith, who joined the service in 1925, and was the last of the open type of engine used in Farnworth. With the outbreak of war in 1939, the Auxiliary Fire Service (AFS) came into being, and Edith became part of AFS, HK4, which stood for Higher Kearsley, Group 4. The group was stationed at Kearsley Yard, off Bolton Road, near the old Council Offices. Groups such as this were placed round the area, in case the main fire station at Farnworth was out of action. It was also possible to arrive more quickly at a fire in a specific area if there was already someone stationed there.
At the back of the engine note the sandbags against the wall to muffle any blast if a bomb should drop. Not all the men had uniforms issued at the time the photograph was taken, hence the man in overalls. The man in the trilby hat was the Telephone Communications Officer, Mr. Harrison. Others shown are my father, Mr. R McDermott, and Messrs. Yates, Hoyle, Taylor, Gill, Nicholson, Coupe, and another Harrison.