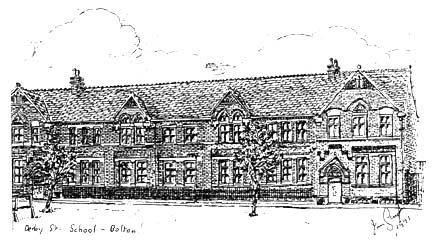 My Days At Derby Street School
I remember Derby Street all girls School as clear as it were yesterday. The good times and sometimes the bad times are still very vivid in my memory. It was an enormous building made of stone, with its wide doors and large steps. These steps lead to the large hall were we would all assemble for morning prayers and sing the hymns. The hall was bright with big picture windows all around. There was a platform at the front where our headmistress would stand.
Miss Laing our headmistress was very strict and a very out spoken person, who put the fear of God in me. She wore a jumper and skirt most days, with Cuban heeled shoes. Tall and as straight as a tree, she would stand there. Her voice would roar like thunder. If she suspected anything suspicious, she would creep on tip toe and bellow at the top of her voice, "What are you doing girl?". She knew everyone's name but very seldom used it. Her face in a frown, immaculately dressed, thin, with grey well groomed hair parted in the centre. She had a fresh complexion with a thin mouth. She ran the school as a Captain would run a ship, with a rod of iron and nerves of steel. Her tall frame could be seen and she would be heard in the distance. She was a law unto herself. At first you would hear the clip, clip, clip of her heels as she approached from her study, which was in a corner at the top of a flight of stairs. Woes betide anyone who was late in the mornings. She had a way of making you feel you had broken every commandment. Her stern voice rose to screeching point, pronouncing every syllable. I would stand and tremble. I never once noted a sense of humour in her voice in all the time I attended school.
We had a lovely teacher named Miss Collinson, who was just the opposite of Miss Laing. Her caring manner remains in my memory to this day. I loved her like my mother, and I felt that she always understood children, making an excellent teacher. She was my form mistress in my last year of school. She tall, with a lovely face, always smiling, she was jolly, kind and sweet, I do believe she was a twin. Her sister worked as a receptionist in the doctors surgery were my Grandma went, where I went once a week to get my grandmas medication. They were so much alike. Miss Collinson taught everyone in the school geography which I really liked. I found it very easy to follow, owing to her kind way of explaining every detail.
We also had school plays, ditties and recitations Miss Collinson encouraged the shy and slow learners, giving them confidence in every way with her Wisdom of Solomon and the patience of Job. Our History teacher was named Miss Hayhurst, A very sarcastic person indeed. My mother was always moving house when I was young and I will never forget Miss Hayhurst remarking "Tell that mother of yours its a Caravan she needs". The words ring out yet, like Miss Laing she was strict and a bit of a show off. But at least I wasn't afraid of her and I did well in history. In fact I once came top of the form, much to Miss Hayhurst surprise and mine. She would say "all I see is the back off your head in class". We all sat in alphabetical order round the class room. I was first as my name begun with 'A'. Rose Auty sat next to me then it was Dorothy Bentley.
My best friend in class was Eileen Holmes. We would go off after school to deliver Dorothy's papers. I now believe Eileen lives in the states and has six children. I think of her often she was as bright as a button. She was very outgoing and she loved to act. I often thought that she would go on the stage when we grew up, she was a natural. Her clear voice would pronounce every word perfectly as she recited Albert at the Zoo, and she always did the actions very carefully.
It was during the war we went to Derby Street School. I can remember a refugee named Pauline Guppy from Jersey. She was in love with Lawrence Olivier, or so she said. She would write off for all his photographs, In her desk she had picture of him in Wuthering heights, Henry V, some of him wearing tights and one in armour, another one with Vivien Leigh. He was her Knight in Shining Armour. I myself was in love with Van Johnson. We would spend hours writing to Hollywood, for all the famous people's photos.
Looking back; names like Jean Elvidge, Ethel Cain, Lillian Durram, Jean Gregory Enid Shields, Betty Pike, and Betty Kippax spring to mind. I could rhyme off all the form if I had time.
Domestic Science now that was a subject, how to make stew or vegetable soup was just up my street. Our cookery teachers were Miss Monks and Miss Morris. Again we went in alphabetical order, one half of the class had Miss Monks and the other half would have Miss Morris. Every Tuesday we would cook or clean accordingly. We would take along our washing and when it was dry we would have to iron it for the teacher to examine. Eileen Holmes was the best ironer I have ever seen I was hopeless. We were taught how to clean the cooker by pulling it to bits. Making sure the temperature of the water was just right for whatever we had the wash. We had no washers then, just the white sink, no soap powder, just a bar of soap to rub on the clothes. Wire wool was used to scour pots and pans. We also used vim to clean the sinks. This left a chalky film, which was hard to get off if you didn't rinse the sink properly.
When it was our week for cookery, we would make lovely cakes like chocolate sandwiches, fairy cakes, Queen cakes, Christmas cakes, Scones, Rock Cakes, Ginger cakes and Biscuits. Bread, Teacakes and Flour cakes. I loved it here, I was at home in the kitchen, always proud to show off my wares. We would take the ingredients to school in a wicker basket, with a tea towel over it to cover our cakes or whatever. I would keep glancing in the basket all the way home. The basket would be very heavy if it had a bowl of broth in it. The dish always weighed a ton, it was made of earthenware with a lid on it. My favourite was Pea Soup with Spare ribs or Ham shank - Happy days I thought.
Miss Lowery was our English Teacher. Every morning she would start the day with a drink of water. This to me seemed very odd. She was a nice person, with a good complexion, slight built, with her hair plaited and twisted around her ears. She was quiet spoken and very calm. I never once remember her losing her temper or even raising her voice. She was a very good teacher. To show us when to put a 'H' before a word she would say the phrase, "Has the dog got lost", I felt like answering "No, he has been found". I found the English language easy to say but hard to write down. All the words that sound the same but are spelt differently.
Every Friday we had Art and Craft. Miss Agnew was our teacher for these subjects. To me she appeared to be too old for her job. She would lean on the radiator in the front of the class, her hand would clasp at her back, and she shaped her mouth as if blowing pouting her lips. She was plump, with a stern face. She wore a skirt and blouse with flat shoes, with her hair combed back neatly, she would gaze often through the window. Yet she could still see who was misbehaving in class. I came to believe she had eyes in the back of her head.
In art she was a first class drawer, and very nimble with her fingers. Her shading was first class even though her hands shook. Miss Agnew always said draw what you see, even though the flex on the light looked at the wrong angle. It took ages for me to draw a daffodil at the front of the classroom. In due respect if I'm honest, Miss Agnew was a good teacher. I sometimes felt sorry for her, she seemed ancient to me. I remember once all the class had to draw a feather, which was placed on the desk in front of us. She drew the feather in ten seconds flat without any trouble. Just smiling as I struggled all through that lesson and the next. To draw a perfect circle was no trouble at all to her. I realise now why she was such a good teacher, to draw was a great gift.