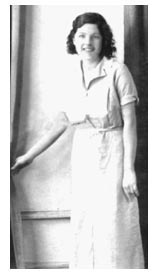 Cotton Queens of the 1930s
Ann Melmoth's mother was entered for the Miss Farnworth competition in either 1934/5 or 1935/6, when she was 16-18 The picture was sent in by her Mum's sisters Nora, Alice and May.
Between 1930 and 1939 a major event in the cotton towns of the North West was the annual Cotton Queen competition. This colourful ceremony was an antidote to the depressed 1930s. It was a glamorous occasion and a romantic association with the daily routine of the cotton mills, which was even made into the story line of one of the films of the day. It was organised by the Daily Dispatch and sponsored by the cotton industry, as the aim was to promote cotton.
Each year a Cotton Queen was elected and, and to be eligible to enter a girl had to work in the cotton industry and be aged between 16 and 26. Would be Cotton Queens had to send their photo in to the newspaper. As many as twenty towns, would then elect a local queen.
There was tremendous interest in Bolton and crowds lined the streets for the big procession through town that ended with the crowning. All the local winners then went to Blackpool for a few days and the national queen was chosen in a ceremony at the Tower Ballroom. It was a prestigious, exciting and glamorous role being the Cotton Queen because for one year she did not have to work in the usual way but travelled the country, with a chauffeur and chaperone, promoting cotton goods.
The first queen in 1930/1 was Miss Glossop, followed by Lois Heath, Miss Leigh, who worked at the Laburnum Mill, Atherton.
The successful Cotton Queen wore a red velvet cloak trimmed with ermine, and a gold crown. She underwent three months training in deportment, elocution, and etiquette to equip her for her duties. The winner was also able to choose a substantial wardrobe from all the best stores and fashion houses, such as Marshall and Snelgrove, Debenham and Freebody, Liberty, Afflek and Brown, etc. One of Lois Heath's claims to fame is that she opened the Princess Bridge over the marina in Southport.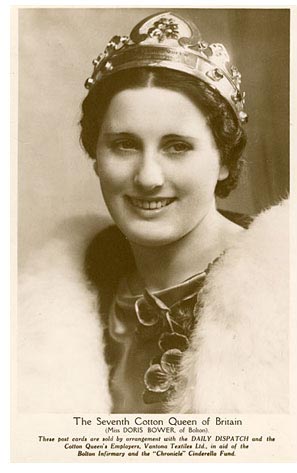 Doris Bower - Miss Bolton
In 1936/7 Miss Bolton - Doris Bower - was the winner, and she said "being Cotton Queen opened up doors for me. I worked in a high-class hairdressers and also went to do some modelling in Manchester ". Doris had previously worked in a cotton mill in Deane and at Vantona in Farnworth. Doris enjoyed her high profile role and the highlights were meeting Ivor Novello and George Formby.
The outbreak of the Second World War meant that the reign of the final Cotton Queen, Miss Preston, ended rather abruptly in September 1939 while she was on official duties in Scarborough. After the war the competition was never revived and the Daily Dispatch also ceased publication.
1930/31 - Frances Lockett
1931/32 - Lois Heath
1932/33 - Marjorie Knowles
1933/34 - Alice Kirkham
1934/35 - Gladys Wood
1935/36 - Edna Taylor
1936/37 - Doris Bower
1937/38 - Vera Greenwood
1938/39 - Marjorie Mason
1939/40 -