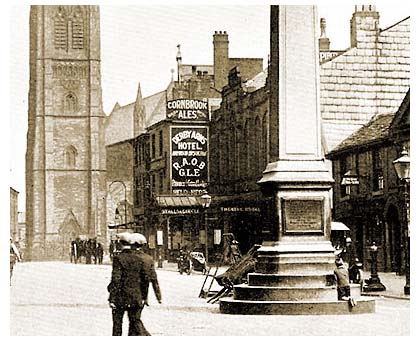 Churchgate Revisited
As a child of 5 years old I came to Bolton from Southport. My family found lodgings at the Highfield House which is now the Health Centre. I played at the back of the Parish Church which was the Manchester Canal. The canal boats were brought in by the shire horses. As the horses had to have stables, they stabled them at a place known as Knacker Brown, who was an animal doctor. When the horses became ill and could not be cured they were sent to Browns to be slaughtered.
At the side of the church a brow ran down to a tunnel called the Church wharf, underneath the canal wound its way back to the shops and houses. A big piano shop was at the bottom coming up from Church Wharf on the right hand side opposite the church wall were four houses up step, then a public house called the Haydock Arms, then two shops, then three more posh houses with front parlours, then a shop now a chippie and a cafe. Further along was the Boars Head and Walshes which is now Ye Olde Pastie Shoppe, opposite the Pastie shop was the grand theatre, it is now offices and shops.
There was also the Theatre Royal and a pub called The Man and Scythe from which they took the Earl of Derby to be hung on the site where the marble cross now stands. There was also a cinema called the Capitol which was built after the small back to back houses known as the Court were demolished. A young boy hung himself in the operating box and he haunted the place. It was later known as the A B C and then a Bingo hall and then a sports shop. I also remember Constantine's which later became Woolworth's.
I was sent to Woolworth's on the day it opened because there was nothing over sixpence. It was known as the sixpenny store.
We later moved to a house on Crook Street. next door to the Flash Street Clinic. At the back of the school and clinic was Ormrod and Hardcastles Cotton mill, the site was demolished and by the end of 1989 will be a Sainsbury's Super store.
Where the fruit market now stands (and the bus station) was once a big spare ground through which trains ran from Bessemer's forge (on which now stands the Courts) The, trains ran along a back street where the unemployment offices are, across Great Moor Street and past smelling yards to connect to Great Moor Street Railway Station.