The Story of a Half Timer
I was born on 19th April 1905 in Princess Street, Farnworth. It's all gone now. It was a corner shop, Longworth's grocery shop on the corner of Barncroft Road and Princess Street. We lived in Leach Street when my brother was killed at the time of World War One. I had a brother John and sister Eliza. In between my sister and my self, there was also a baby that died; we later went back to the same shop. Our family were well known in the area.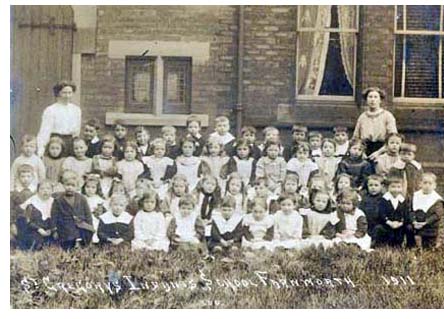 School
We lived at the shop when I was at school. I went to St Gregory's. The Head at that time was Miss Kelly. I was happy enough. I liked school. Alice Brown was one of the teachers. I always did well at school. In the last exam at school I was second to top but my parents were waiting for me to go to work. One of my friends was very bright but her father wouldn't let her go to grammar school because he said it was not for girls. It was very strict. Canon Tynan was the priest. He used to come in the school yard at playtime with a big jar of toffees under his arm. He used to throw a handful out, and all the kids were scrambling for toffees.
Half timer
I was a half timer and as well as school had to go to work at the age of 12, at Century Mill, New Bury. I worked in the morning from 6.00am to -12 noon, helping in the ring room , bobbins and that sort of thing that they filled up for the cops.Afterwards I went to school.
There were not many other children, but there were older girls working on the machines. I worked with Mr Carabine, and filled big skips with cops. They are still a Farnworth family. The few shillings I earned were important. They were waiting for that few shillings. You had to take a book to work, and I used to take that book to work with me, and give it in at work on Monday. On Friday dinnertime I brought it back from the mill to give to the head teacher. I had to prove I'd been to work and she had to record school attendance.
This was the reason I had the stick once in my life. I'd been from work to school and the teacher said, "Where is your book". I'd forgotten to bring it home so she gave me the cane and sent me back to New Bury for the book.
On cold dark mornings I walked all the way from Leach Street, near Farnworth station to the mill. The mill was very noisy. Half timers got 2/4 a week up to age 13.
Work
I didn't have a choice of what to do when I left school. It was a case of getting money. I liked it, I didn't know anything else.
I went to work at Walkden after I left school with Auntie Martha, at Howarth's Mill. They wouldn't take half timers there so when I was 13 I went to work there. I didn't walk, the tram was working then. I worked full time including Saturday until 12. The pay was roughly 30/-. My sister was a weaver at Phytheans Mill.
Longworth's Shop
I worked at Howarth's until I was 16 or 17, and then I worked in the greengrocers, helping dad with the business. Later on Dad had a stall at the market. He went on a horse and cart to Bolton for greengroceries. You always had to feed the horse before yourself. That horse knew its way around. One day he had to visit someone and he was longer than usual in this place. When he came out the horse and cart were not there. She'd made her own way back to the stable. The horse was called Dolly, and was stabled at the back of Rayners Yard next to Queen Street School. The Rayners lived in one of four houses there. I went on the horse and cart sometimes. It was a very busy shop.
John Longworth
My brother, John worked in a weaving mill and he also worked in a pit. He worked at Drake Mill and then was a drawer for the Clifton and Kearsley colliery. He volunteered for the forces, I don't think he was reserved or anything. He was killed in the First World War on 17 February 1918. I was 13.
John Longworth

John Longworth (circled) and comrades

The Commonwealth War Graves Certificate reads:

In Memory of

Private JOHN LONGWORTH

87960, 13th Bn., The King's (Liverpool Regiment)
who died age 19
on 17 February 1918

Son of Ralph and Mary Ellen Longworth,
of 121, Presto Street, Farnworth, Bolton.

Remembered with honour
BUCQUOY ROAD CEMETERY, FICHEUX
Mother and father visited the grave and other relatives did, but I couldn't somehow. Kathleen went to the cemetery but couldn't find the grave. I can't remember the unveiling of the Farnworth War Memorial but we visited it regularly. There's also a memorial at St Gregory's.
The Farnworth Journal records that he was a drawer for Clifton and Kearsley Coal Company and that he had three swimming medals and won Mr Alf Darbyshire's billiards cup in 1916. He enlisted at Bolton in 1917 (87960 13th King's Liverpool's), and went to France in September 1917. He died of wounds in a French hospital on 17th of February 1918, with a priest in attendance. Aged 19.
At St Gregory's Club there is a list of members killed in the war and his name is on that.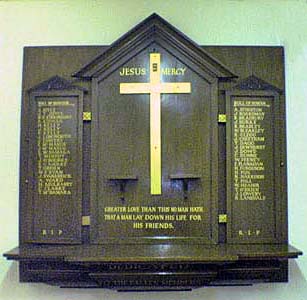 Chloride
I carried on working in my father's shop but when business was not good I went to Chloride at Clifton. I went to work on the train. It was an unhealthy place to work then and ladies who were getting married had to leave. My husband, Ellis, worked there but I already knew him. His father was also a greengrocer. We were both members of the St John Ambulance. He was in the volunteer reserve. We went to football matches. I went to Wanderers once collecting money. I stood on the corner and it was amazing how many people avoided me. The Ambulance Brigade met at Queen Street School, the men had one room and the ladies another. Dr Lucas used to come and give us lectures, to us all. Another doctor came to give us exams and ask questions. We had a book with it all in, and I even remember the questions, such as 'how to I sterilise things?' I had been at Chloride quite a while before my husband plucked up the courage to ask me out.
Housing
Housing in Farnworth in the early days was all small ordinary terraced houses, with no bathrooms. We had an outside toilet in Princess Street and that one toilet was for three families. There were 3 people in Finley's house, 4 in Stones', and 5 in ours. We cleaned it in turn and had no disputes. My sister and I used to go with a candle; I roped in Eliza to accompany me. In Leach Street we had our own outside toilet in the yard, but it was years before we had an inside toilet.
Food
We were never short of food and vegetables. We had lots of potatoe pie, and rabbit pie. Once mother was dishing out the rabbit pie and I said Mum can I have a leg? She said, 'this rabbit's only got 4 legs and you are not having one.'
Marriage
I was 33 when I married in 1938, and still at Chloride. My husband was 36 on the day we married at St Gregory's. He'd been to America for 8 years, working for Ford in Massachusetts. He came back during the depression,. He helped his dad with his business. He had a mobile greengrocers, a horse and cart and worked from home in Ellesmere Street.
Wartime
He was in the Naval Reserve so was called up before war was declared. Sometimes he was in hospital, and sometimes on ship, serving as Leading Sick Berth Attendant. He was always away, even before war was declared. When he was called up he went to Gosport in Portsmouth, and then was sent to different ships. He worked in the sick bay with doctors on those ships. One was a destroyer, and he saw lots of action. He served on the Vimy and the Frobisher. He was at Dunkirk and came back a week after it was over. He never said anything, because it was too horrific probably. He slept for a week when he came home.
| | |
| --- | --- |
| | |
| HMS Frobisher | HMS Vimy |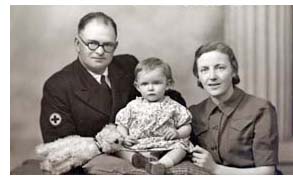 When our daughter Kathleen was born he was on a ship, in Sheerness. He was given a 24 hour leave, and came straight from Sheerness to the hospital.
He was at Scapa Flow. In between ship duties in hospital, I went down to Dorchester once with Kathleen. We stayed at Lord Digby's residence for convalescing soldiers at Cerne Abbas. The change of air was good for Kathleen, as she was not well.
Another time going back from leave he found out that the train was not stopping at Farnworth , and he had to go to Moses Gate, but nobody had opened the gate and he had to climb over the wall.
The air raid shelter was in Presto Street. We had one of our own in Brackley Street but Kathleen had been in hospital so I was at my mother's house in Presto Street. The siren went and I put Kathleen in a basket with a bottle of milk. A man said 'what have you got there missus'. 'It's my baby', I said. He carried her for me.
We were living in Ellesmere Street then, in a cottage a few doors away from my husband's parents. We got a cottage when a family moved out. Before I was married we lived in Leach Street, then at the shop in Presto Street, and then 121 Presto Street. We got married from 121 Presto Street, and Kathleen also did. At that time the landlord lived on the Isle of Man, and he came over every now and then for the rents which someone else collected. He wanted to sell so we bought the house my mother and father lived in. They lived there until they died. We moved in the last few months when mum was unable to look after herself.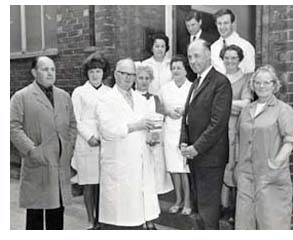 At Chloride my husband was asked to work in the medical department, as an extra duty, and he worked either on Saturday or Sunday, doing first aid. Later he did it full time. Lead splashes were a frequent occurrence. Once a woman told her that her husband saved her husbands sight. He treated him in the ambulance room every half hour until he thought he could be moved to the eye hospital. This immediate treatment saved his sight.
Ellis worked at Chloride at Clifton Junction for thirty five years, starting in the Moulding Department in 1932, moving to Lead Recovery four years later. In 1945 he was transferred to the Medical Department.
He is pictured here with his colleagues on his retirement.
Family Tradition
Catherine's grandson continues the military and medical tradition, and has served in the Royal Army Medical Corps for over 20 years as a Pharmacy Technician. He has seen recent service setting up field hospitals in Basra.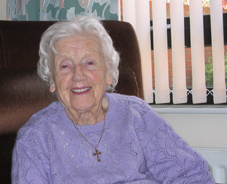 Catherine Walton aged 99