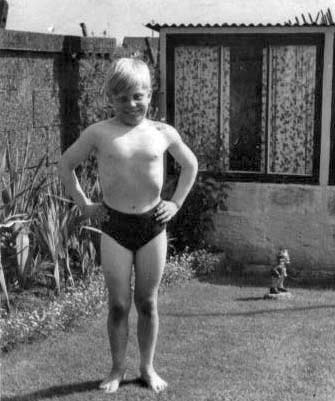 A young Vic - ready for the bell!
Vic Faulkner -
Professional Wrestler
Vic was born on the 14th July 1944 and attended Saint Peter and Paul's RC School and Lord's Commercial Institute, Bolton. His father and brother were also students of Saint Peter and Paul's.
Vic's father Lewis Faulkner was also a wrestler, turning professional in 1935 and retiring in 1963 at the age of 50. Lewis ran the Bull's Head pub in Breightmet for 17 years and Vic owned a pub in Euxton, Chorley. Vic is presently in the pub trade and is the District Sales Manager for Thwaites Brewery.
Vic was just 17 when he became a professional. He travelled the world wrestling including Africa, Italy, East African countries including Kenya and France including a lot of bouts in Paris and also raising money for charity. Vic was European Middleweight Wrestling Champion 1966-73 and British Welterweight Wrestling Champion 1973-77.
Vic and Bert Faulkner often fought together as the Faulkner Brothers or the Royal Brothers and were a famous - and undefeated - wrestling Tag Team in the 60s and 70s. They performed at The Royal Albert Hall and The Liverpool Palace among other venues, including Bolton's very own Wryton Stadium. They had major success as TV stars in the 1960s and 70s as many families dedicated Saturday afternoons to watching wrestling on television - which was much more popular than the sport today.
Bert Royal was born Herbert Faulkner, but wrestled under the name of Royal because at that time his father, Lewis, was using the family name until he changed his 'work' name to Vic Hesselle. As Bert's younger brother, Vic Faulkner did not have this problem to contend with and wrestled under his own name.
Vic Faulkner and Bert Royal - Wrestling Superstars
The Flying Faulkners feature in The Mat Wrestling Review
(Above and Below) Tag Team - Bert and Vic versus
Japanes wrestlers at Nottingham Ice Rink

(Above) Tag Team - Bert and Vic versus
Steve Logan and Mick McManus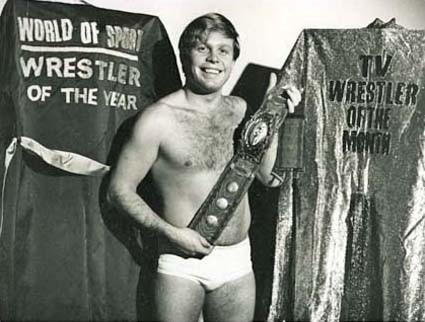 Vic Faulkner - Wrestler of the Year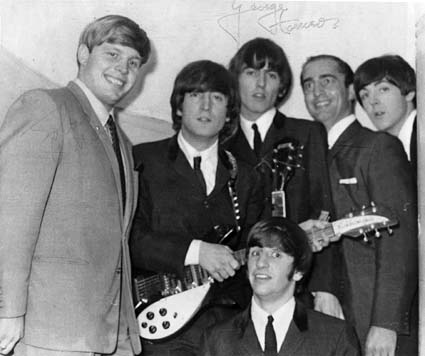 The Faulkners meet the Beatles!
Vic, John, George, Ringo, Bert and Paul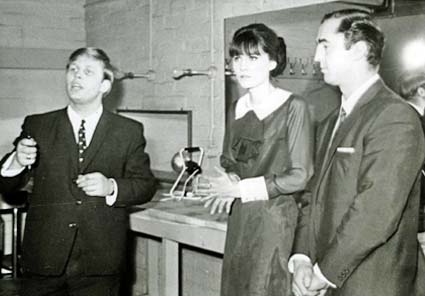 Vic and Bert with 1960s barefoot pop star Sandie Shaw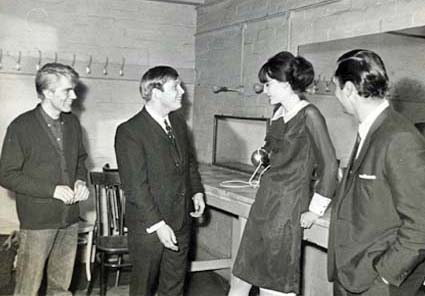 Wrestling stars Vic and Bert with pop stars Adam Faith and Sandie Shaw
Although Vic spent a large part of his life in the London area and having premises there, he always had his base in Bolton. Vic and his Wife Sally reside in Bolton. They moved to one of the suburbs 21 years ago so that the children, Simon and Georgina could go to the local school. It was never their intention to stay after the children finished school but the neighbours were so welcoming that they are still there.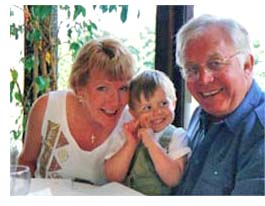 After spending every day in the Gym for twenty five years during his wrestling days, when Vic gave up wrestling, he also gave up the gym. If he has put on a little weight, it is due to the food his wife Sally, a Home Economist, cooks for him. In recent years, Vic has suffered a bit with arthritis. Sally has devised a diet for him to try and help the situation.
Vic started working for Thwaites Brewery in Blackburn in 1984. At first, he worked as a Free Trade Brewery Representative but now he is a Tied Trade Area Manager. He has been top Area Manager at Thwaites three times and prizes included cruising the Caribbean, staying at the Hermitage/Hotel de Paris Hotel in Monte Carlo and a touring North America. He has also had various trips through Europe with Sally, courtesy of Daniel Thwaites plc.
Both Simon and Georgina are married now and Vic and Sally are very proud Grandparents to Benjamin, Sammy and Rachel.
Lewis Faulkner, father of Vic and Bert, who wrestled under the name of Vic Hesselle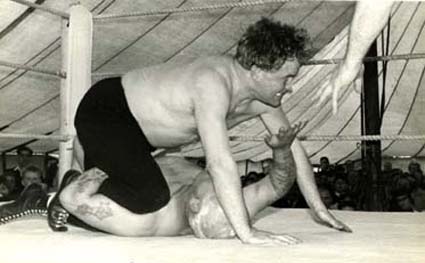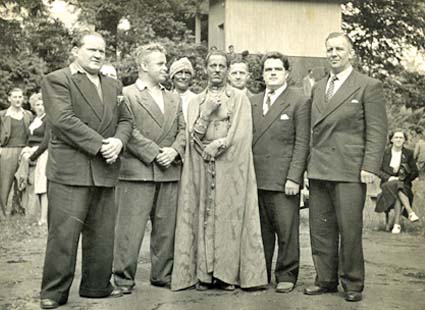 Lewis is the second from the left