Thomas Wilson Snr's World Cruise
Thomas Wilson was born on 22 December 1895. He enlisted in the Royal Marines Light Infantry in September 1913, training at Deal in 1914. In 1915 he joined the Plymouth Division, and served on the "Victory" until 1917.
It was whilst serving on HMS"New Zealand" that he was chosen as part of the guard of honour to the Lord and Lady Admiral Jellicoe on their world cruise. From February 1919 to February 1920 they called at 66 ports and travelled 55,000 Miles. They had the crossing of the line ceremony and it was the first time an Admiral of the Fleet had taken part.
At the end of the cruise they were ticker-taped down Broadway, New York. Thomas had four good conduct Chevrons on one sleeve and a silver wound bar on the other. He was 5'4" when he went in and 5'7" when he came out.
If you would like to contact Jim, please email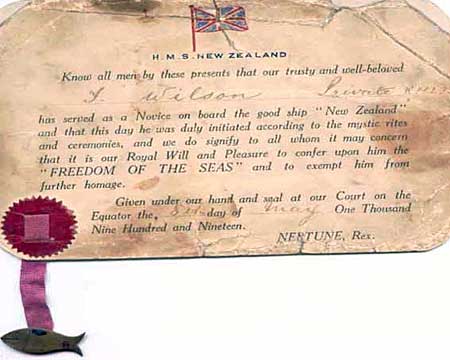 Jim Wilson has also written a story about his brother, Thomas Wilson and HMS Undaunted

Cruise Log Page 1 pdf

Cruise Log Page 2 pdf

Cruise Log Page 3 pdf