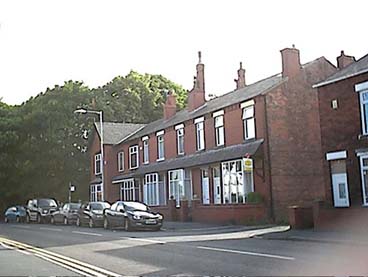 Robert Shaw's birthplace
Robert Shaw
Just to show that talent travels let the county of both Lancashire and Cornwall step forward for recognition the towns of Westhoughton who gave of its smoke filled air of factory chimneys to a great man and to Truro who developed and tutored his brain to put him on the ladder to fame.
Never could headmistress Mrs Clara Pendlebury have dreamed that the bright eyed and energetic schoolboy playing the part of pretend swordsman in the tiny playground of White Horse C E school, Westhoughton, a small textile/mining community on the outskirts of Bolton, Lancashire would become a world renown international star.
For that alert youngster was none other than Robert Shaw, author, playwright and actor of TV, film and stage. Robert Shaw was born the son of doctor Thomas Shaw at 51 King Street, Westhoughton in August 1927. He wouldn't remember much about the residency of his birth because at six months of age the family moved across the area just a short distance away to Oaklea House in Bolton Road.
It was at the school across the road that he first set pen to paper or could it possibly be chalk to slate? Robert Shaw never forgot his roots, and neighbours in Bolton Road recall his infrequent visits as he came to witness the changing scene. In fact, his early recollections of his birthplace must have been carried with him on his later journeys around the world for in a BBC interview he once said that he could remember the sound of mill girls clogs clattering on the cobbles as they sang 'Oh Play To Me Gypsy.'
At the age of seven Robert Shaw left Westhoughton for the Orkneys then later moved to Cornwall. His education was then taken up at Truro where he appeared in a school production of Macbeth.
The acting bug had now gotten hold of him for aspiring for greater fame he joined RADA. Writing as well as acting talents came to the fore and in May. 1956 his own play 'Off The Mainland' in which he took part was performed at The Arts Theatre in London.
His writing craft became apparent to film producers and he was allowed to write several of his own scenes in the film 'The Deep'. Film after film followed from the lead part as Custer to the film he was best remembered for 'Jaws.' He first broke through as an author in 1959 when 'The Hiding Place' sold 100,000 copies and made into a TV play.
There is no doubt that the young fathers of today will remember that as youngsters their best memory of Robert Shaw was when they sat with their eyes glued to the T. V. screen as their hero Dan Tempest moved across it with cutlass in hand and dagger between his teeth. So this 'pretend' swashbuckling Westhoughton schoolboy couldn't have realised what fame would be bestowed on him. As he sat at his school desk learning to read and write his first words, how was he to know that the world would one day consider him a genius. A lad who would move from the flickering gas lamps of Bolton Road in this small Lancashire town to the brilliant neon signs of Broadway.
Sadly on August 28, 1978 Robert Shaw died of a heart attack and not only did Britain lose a famous son, who's heritage the locals cling to, but the whole world lost a master of the arts.
Ernest Ford was born in a small mining village halfway between the towns of Bolton and Wigan in Lancashire, England, UK.

His hometown, Westhoughton had reared in the past a number of sporting personalities but also had links with former West End actress Jan Holden and was the birthplace of internationally known author and actor of the small and silver screen Robert Shaw.
It is amongst such a background of talent that Ernest Ford gained the inspiration to write as well. Taking up pen and paper his first foray into the literary sphere was to compose poems. This he did but was amazed to discover that he could write poems in his native dialect.
His first poem in Lancashire dialect appeared in the glossy magazine Lancashire Life who requested more of his dialect material.
From his dialect verse there came a request from his local newspaper to publish a series of his humorous dialect tales with great success plus a series on local history.
Other successes followed as a local folk group used his lyrics in their act and the words appeared as songs on T. V. stage and LPs.
His interesting articles have been published in a number of glossy magazines and then followed the publication of various books.