Raymond Dewhurst and St Thomas's School 1929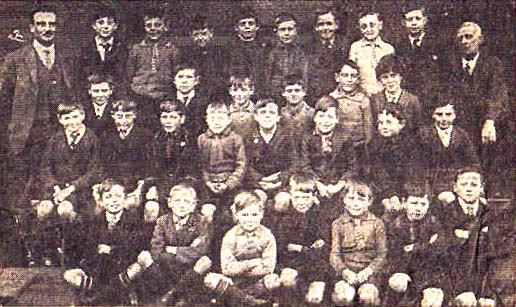 I know this isn't very good quality, it's from a newspaper clipping from 1970, probably the Bolton Evening News.
The caption underneath reads:
Mr J.N. Ashburner, of Windsor Drive, Old Colwyn, a lecturer at the Technical College, Colwyn Bay, since leaving the teaching staff of Worsley Technical college in December, 1955, sends this picture of the boys in his class at St. Thomas's School, Farnworth, in 1929, with headmaster, Mr H. Taylor (on left), and class teacher, Mr Valentine.

Back row: John Dutton, Frank Clayton, John raw, --. Worthington, Cyril Makin, Wilfred Marland, William Partington, J.N. Ashburner.

Middle row, standing: Jim Ogden, Albert Barnes, Arthur Percival, Fred Speakman, Fred Whitworth, and Albert Wharmby.

Middle row sitting: Tom Tootal, Leonard Harrison, Hedley Hope, Jim Grundy, (?) Jack Dawson, Harry Pollitt, (?).
Front row: Jim Aldred, Raymond Dewhurst, Arnold Meadows, John Clough, --, Johnson, Stanley Newsham.

My father, Raymond Dewhurst was born on Friday 19 September 1919 at 5.30 pm, just as the Farnworth Wakes was starting up, and would have been around 10 when this photo was taken. Jack Dawson married May from Kearsley who was my mother's bridesmaid and they had two boys. They migrated to Australia in the late 1950's, early 1960's and lived in Elizabeth, South Australia for many years. My father and Jack were best mates.
Raymond Dewhurst married Gladdys Hall and passed away on 19th February 1979, aged 59.
Please note:- born 19/9/1919/ died 19/2/1979 aged 59.