Mary Hamer - Pioneer Climber
Mary Hamer was a most remarkable woman. Born in Bolton in 1900,and living at The Willows, Sharples Park, Mary was part of a climbing family. Her father and brother were both keen climbers and Mary wanted to climb with them but wasn't allowed. In her early teens she climbed Helvellyn on her own on a family holiday. Mary told Jean Howarth that "she took her father's walking stick with her and left it in a gully near the top". She then went back up with her father to retrieve it, proving to him that she had done it. Her father said that if she was going to climb in the hills she should do it properly and he made her join the Fell and Rock Club, of which she was a member until she died in 1997. She was for many years the only woman member in Bolton and District.
Mary, who later married Jack Heaton, was also a pioneer woman motorist in Bolton.
Great Gable, Armistice Day, 1936
Mary, together with a friend or two, often made an annual pilgrimage to the summit of Great Gable where a commemoration of the fallen is held at the highest war memorial in Great Britain. In 1923, Mr Ralph Mayson, the well known photographic climber of Keswick, and Mr Lionel Glaister, a Bolton man, inaugurated this yearly pilgrimage.
On Wednesday November 11 1936, Mary, of the Willows, Sharples, made the climb with Kathy Glaister, of Breightmet Hall, and Madge Cort of the Manor House Breightmet. "We left Seathwaite Farm just before 8 am in deplorable conditions, the rain beating in our faces. The rocky path was one running river, and in places the banks were so swollen we had difficulty crossing. We followed the route via Sty Head, Aaron Slack and Windy Gap. At 1500 feet the rain ceased and there were marvellous views of the clouds, and a snow capped Scafell Pike. On we went, past the mist line, until we reached the memorial stone on the 2,949 summit, - erected by the Fell and Rock Club as a memorial to their members killed in the First World War.
There were 21 mountaineers in all, 5 of them Boltonians. We always take a large laurel wreath, and just before 11 am Mr R Smith of Worsley laid the wreath decked with Flanders poppies which glowed red against the snow. Each of the members puts his or her poppy in at the summit, and then Mr H Cooper of St Annes gave a very moving address, which included the well known poem by Laurence Binyon 'To the Fallen'. We then observed the two minutes silence, which was most impressive. One could only hear the mighty rush of water and the wind blowing round the mountain tops. The party of mountaineers left this war memorial, feeling awed by the solemnity of the little pilgrimage."
Armistice Day 1944
In 1944 Mary climbed with Miss Millicent Halliwell, of Blackburn Road. Mary described the event as follows:
"During the last war, when petrol was rationed, we took our cycles up to Penrith before the 11th and rode them from Penrith to Rosthwaite, and then to Seathwaite early on the 11th. We left our cycles at Edmonsons and Mr Hardman took our photograph as we cycled back from Seathwaite after we had attended the service. We usually stayed 2 or 3 nights at Joe Plaskitts house, Kiln Howe, at Rosthwaite, so our cycles were helpful, during the war, for our armistice climb.
We encountered snow and ice from about 2000 feet and it was bitterly cold at the summit.The simple little service is as full of meaning as if it were held in a great Cathedral. It seemed to be understood that we all had kept together and went the same route up Great Gable, but after the very impressive little service and prayers, the party split up and we made our own way back."
Miss Halliwell and I were the only two females that particular year. Owing to the war only about nine of us were on the summit".
See Wasdale Web for photos and description of the latest service.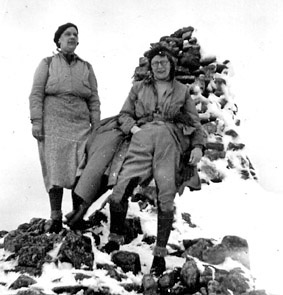 Mary Hamer on right in trousers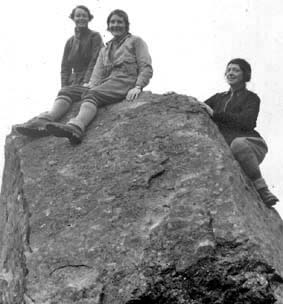 From left: Kathy Glaister, Mary Hamer, Madge Cort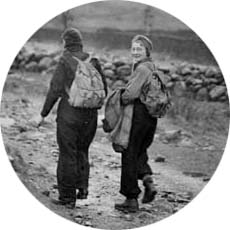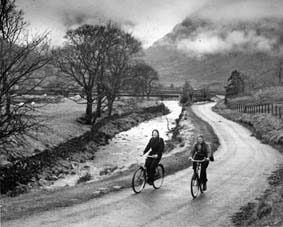 Armistice Day 1944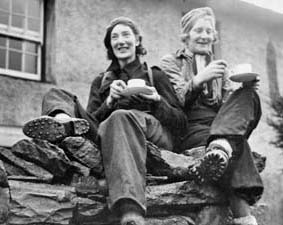 A welcome cup of tea after the climb