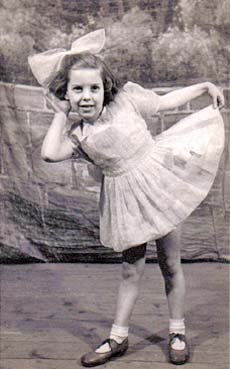 Little Vera Berry in 'Dick Whittington" 1949
Little Vera Berry
I was born in 1941 in Farnworth and was brought up on George Street, near Dixon Green. My Dad was Billy Berry, a head warehouseman at Century Mill and one time local councillor and entertainer. My Mum Nelly Berry (nee Martin) was a housewife then Shop Assistant at Charnock's Shop on George Street, New Bury.
I attended Plodder Lane County Primary School and Farnworth Grammar School. I had wonderful memories of both too numerous to mention here. I loved every minute of my education. My friends were Jean Stones, Janet Dawson, Cynthia Rigby, Marilyn Leach, Harold Howard, David Jolly to name but a few.
My Mum, my two sisters and I were all involved in the pantomimes he produced from Century Mill on George Street that were performed in the Co-op Hall on Market Street, Farnworth. That was my grounding in the theatre, dance and amateur productions. My Dad went on to produce pantomimes at St James's School until his untimely death at 45 years old in 1955.
Does anyone remember those pantomimes? Who performed in them, or merely went to watch them. They were good shows and made much money for charity just after the War. I was only three years old when I first went on stage dressed as a bird in the pantomime Babes in the Wood. My older sister, June, was one of the Babes partnered by Jean Dawson (Where is she now?) I also remember Winifred Garrity and Ivy Brown who played leading roles. I was always known as "Little Vera Berry" a name that has followed me Down Under.
After leaving school I enrolled at Teacher training college in Liverpool and taught at Harper Green School, St Gregory's Secondary School, St Augustine's School & Mount St Joseph School.
For entertainment we would go to, The Ritz and Savoy Cinemas in Farnworth; Bolton Palais; The Nevada. I was also a member of Farnworth AODS as a dancer for several years.
Vera now lives on the Gold Coast, Queensland Australia if you remember her or the people in her story please contact verainoz@yahoo.com.au