John Ashworth at the Battle of the Somme
JOHN ASHWORTH 1877-1931
1st July 2006 is the 90th anniversary of the Battle of the Somme, in which my father took part, this story is about his army career.
My father John Ashworth born in Rochdale and when he was 9 years of age, grandfather William Ashworth moved the family to Bolton, where William had found work, and the family settled in Bolton. John was the eldest of 6 sons and 2 daughters, and when he was 12 years old, his mother Sarah Ann Ashworth nee Hardy died.
On 5th July 1898 he joined The Lancashire Fusiliers at Bury, for 7 years in the army and then 5 years in the Reserve. He was issued with "THE SMALL BOOK" which gives details of his army career and next of kin, this is in my possession. John was living at no 12 Dean Street Bolton, and his regimental number was 6498 Private John Ashworth.
On 26/8/1898 embarked for Malta and disembarked on 4/9/1898, on 14/2/1900 embarked for South Africa and disembarked at -/7/1900. He was granted Queen Victoria South Africa Medal with Natal clasp. During the early 1900s he played for the Regimental Football Team, 4th Battalion "Lancashire Fusiliers", and I have a photograph of the team.
On 4th July 1906 he transferred to Army Reserve completed at Tipperary, signed by E.C.Tidowell Major Commanding 4th Lancashire Fusiliers. He was discharged on 4th July 1910 in consequence of termination of first period of engagement, discharge confirmed at Preston.
JOHN married Emily Rostron at All Saints Church Bolton, this was a double wedding, with his sister Elizabeth Hannah Ashworth marrying James Lowe, on 12th September 1908.
A note of interest here, Winston Churchill married the same day, in London of course. He was John's hero from his South Africa days.
JOHN enlisted again on 5th May 1915, his regimental number was 19489 SJT later ACTING WARRANT OFFICER 11 JOHN ASHWORTH and entered Theatre of operations-France-9/10/1915.
He was at the Battle of the Somme in 1916 and was awarded the Military Medal. The award was announced in the London Gazette Supplement dated 11 November 1916.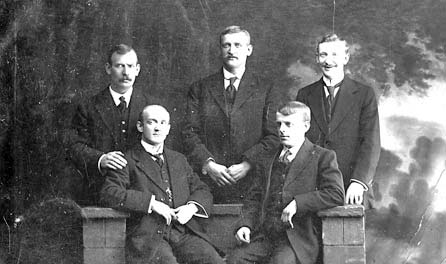 John, Arthur, George, James Henry & Edward (William Hardy emigrated to America)
The Battle of the Somme
The Battle was planned as a joint French and British operation.
The attack started on 1st July 1916, but a for a whole 7 days before, Allied Artillery pounded German Lines. So confident were the British Commanders that nothing could live through the barrage, they ordered their troops to walk slowly towards the German lines. However preparations for the assault and week long bombardment gave the Germans warning, they simply moved underground and waited. The Bombardment failed to destroy either barbed-wire or the concrete bunkers protecting the German soldiers.
At 7-20am on 1st July 1916 the bombardment had stopped and a Landmine exploded giving the signal for our troops to walk to the German Lines. At 7-30am, our troops started walking to the German lines with rifles held in front of them, the Germans were in a good defensive position on higher ground and they simply came out of their dugouts and they were able to inflict a terrible toll on our soldiers.
The British Expeditionary Force suffered 60,000 casualties the first day (a third of them Killed) making it the worst day in the history of the British Army.
The Battle went on till Nov 1916, The British had 400,000 casualties, French 200,000, and the Germans 450,000.
The flower of British, French and German society were cut down robbing these nations of their future.
JOHN was in the 2nd Battalion Lancashire Fusiliers 1915-1919.
From Calendar of Moves, the Battalion was Mobilized at Dover, Kent, on 5TH August, 1914.
From 1st July to 10th July 1916 - Attack and trenches, Beaumont Hamel. (Start of the Battle of the Somme). This ties up with a Letter John sent to his Brother James Henry, an extract of the letter follows.
A Company
2 Lancs Fusiliers
B E Force
10/7/1916
Dear Brother,
Your ever welcome letter to hand and I am pleased to hear that you are doing fairly well and hope that you will continue to.
Your place will be the same as ours at Hull for Drafts, we are waiting for one, for we had over 400 casualties on the 1st July, in fact our Division was badly cut up, and there are all sorts of rumours going the rounds. Some say the Division is going home, but that can hardly be the case. Our chaps have been in the Trenches ever since the attack and it has been terrible up to the waist, raining all the time and no place to dry ourselves.
Our 1st Battalion lost 750, so you will quite understand that we have been in the thick of it, it will be a good job when it is all over.
Our chaps come out tonight and I am making tea etc for them at the camp. I should think they will give them a good rest while they get over it. We are expecting some fresh troops to relieve us, but when I cannot say.
Dear Jim this is the 11th July, I had to stop the letter yesterday, but I have a little more news.
The Battalion got to camp between 12 and 1am this morning after being relieved and you would have cried if you could have seen the poor chaps, the greatest majority of them could not walk and had to ride, I shall never forget the sights, this is the first rest since the 30th June so you will understand what they are like and how fed up they are.
I don't know that I have much more to say at present, so I will conclude wishing you and yours all that I wish myself.
I remain your loving Brother,
Jack.
I shall never forget the Battle of the Somme

My Notes follow:-
I wrote a letter to Major (Retired) J. McQ. Hallam
Regimental Secretary (Lancshire)
Wellington Barracks
BURY

And received a reply dated 3 September 1987 as follows:
Thank you for your letter and the Photostat copy of your father's letter. It is always fascinating to read personal impressions of wartime experiences and the 1st of July 1916 left an indelible mark on all who took part.
JOHN was transferred to Army reserve on 5th August 1919 in consequence of Demobilization, signed by
Lc B T Duckworth, Officer I/c No 1 Infantry Records. Preston.
The 1914-18 War Medal Rolls indicate that the following medals were awarded and issued to:-
No. 19489 SJT later ACTING WARRANT OFFICER II
JOHN ASHWORTH - LANCASHIRE FUSILIERS
1914-15 Star
British War Medal
Victory Medal.
JOHN started a Fruit and Vegetable Business after the war, but this failed, he had periods of unemployment with occasional work.
Both John and Emily died in 1931 leaving 7 children and the
family lived at 8 Dean Street Bolton, (East Ward).
I was 7 years of age at the time and my younger brother Robert was 4 years of age, we were both elected as boys to Chetham's Hospital Manchester, a school for poor boys founded in 1653, myself in October 1932 and Robert in October 1934. The school is now Chetham's School of Music. We left there aged 14 years and came to live with family back in Bolton.