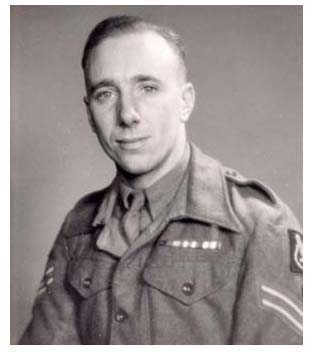 Stories of Wartime Friendship and Bravery
Jim Ratcliffe was born in Plodder Lane Farnworth in 1922 and still lives close to his place of birth. He worked as a joiner before being called up in February 1942. After the war he worked in the bakery trade. Jim's Great Grandfather was President of the Farnworth Cooperative Society and he was shareholder number one. This special number was eventually handed down to Jim by his mother. He is the Chairman of the Bolton branch of the Normandy Veterans Association. He was firstly in the Loyals, serving in Sicily, and then the 9th Durham Light Infantry.
On D Day he landed on Gold Beach in the second wave.
Joining the Mortars
I was in Sicily first of all, but came home from there for the invasion at the end of 1943. After being in camps at Saffron Walden, and Suffolk we moved to Romsey.
About this time I remember talking to a couple of Welsh lads (the same two who were on the stretcher party in Sicily) and they had gone into the Mortar Platoon. I asked what it was like and they said if I could get in, do so. It was far better than a rifle company - there were no route marches, and discipline was easier as it was more of a self discipline. The threat was that you would be returned to a rifle company if you did wrong. One morning at first parade the OC B Coy said he wanted volunteers to go on the following courses, carriers, anti-tank and mortars. When he said mortars, I had my hand up like a flash. Myself and two other lads were selected and we went to S Coy camp every day to learn about the working of the mortar. I really enjoyed the course, it was something different and we must have passed because it came on orders that we were posted to the Mortar Platoon. There is a saying in the army that you never volunteer for anything, but I remember my father who was in the 1st World War saying that if something feels right...... do it!"
Friendship
The trouble was I had now left my mates behind and the lads in the platoon were already paired up, and that was when I doubted if I had done the right thing. In the hut there was an empty bed next to mine and someone told me it belonged to a lad called Tony Colgan who is a carrier driver and he was away on a driver mechanics course but he would be back soon. When he did come back we hit it off right from the start, and you know the situation, if I had 2 bob and he had 3 we had 5 bob to go out with and vice versa. We have been firm friends for the last 54 years.
Training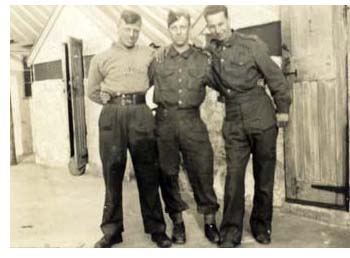 The last big scheme before D Day was out at Studland in Dorset and it was to test how fast vehicles could get away from the beaches. The starter motor on our carrier was giving trouble and if it stalled one of us had to get out and crank the engine. Of course it stalled and it was my turn on the handle. Now a starting handle on a carrier is about 6 ft long and has to be shoved in from the front of the carrier, and by this time we were holding up a column of tanks,. Montgomery was in his staff car close by and in that sharp voice of his asked what the problem was. Me, not knowing who had asked the question, shouted, "the starter's buggered sir". He then turned to Tony in the carrier behind us, and told him to give us a shove, which he promptly did. It was that hard I thought he was coming over the top. We started, though Tony knew he was in the clear even if he had wrecked us....direct orders from the Army Commander!
Preparation
When we were briefed for the invasion we were all impressed when told of the 'thousands of planes' and 'hundreds of ships' that would be 'battering the German defences' and of course after this we were all confined to camp. When the day came to move out we went down to the docks at Southampton, it seemed that half the British army were converging on Southampton, it was that congested. We loaded our carriers onto an LCT and then we heard the party had been postponed for 24 hrs. Well to say it was a boring is an understatement, in my case it was made worse because I could see Bournemouth just down the coast and I had spent many a happy childhood holiday with my Aunt and Uncle who lived there. The time came for us to form up and move off and we were near the Needles off the Isle of White, I was just about to have a smoke and I was reaching into my pack that was resting on a ledge on the side of the ship when there was an explosion and a spout of water came over the side soaking us and landing in my open pack ruining all my fags. The Captain came down off the bridge and said " I think its all right lads we haven't been holed and it wasn't a mine because it would have blown us out of the water".....being a non-swimmer that made my day, we then tried to get some sleep which does not come easy in a carrier at sea. I never did find out what caused the explosion.
Landing
When dawn broke and we could see the coast of Normandy with columns of smoke rising and planes bombing and strafing the German positions a few of us thought it the ideal time to ask for a transfer to the Home Guard. We sailed past the cruisers HMS Belfast and HMS Orion whilst they were firing broadsides and the blast from their guns were flattening the waves in front of them. As we got closer to the shore, we could see wrecked vehicles in the water. On our beach 69 Brigade had made the assault and 151 went in on the second wave. We hit the beach and it still looked a fair way to dry land. The Skipper yelled to the men controlling the ramps to hold on as he would try and get us in a bit closer, which he did, bless him. The Battalion had to make for an assembly area a little way inland and the No3 in the Mortar detachment joined us at this point. I was then No1 whose job it was to lay (sight) the Mortar. We introduced ourselves to him, his name was Charlie Bone and our driver was another Welsh lad called Ron Davies. At the briefing back in England we had been told that C Coy on bikes, a section of Bren gun carriers, a section of Anti-tank guns (6pndrs) and a section of 3" Mortars would leave the assembly area and go as fast as we could and occupy this small ridge before the 21st Panzer got it. We thought this was hilarious, they would have rode all over us, anyway we set off and we had been going along this road for a few minutes when half a dozen Typhoons started bombing and strafing the road a few hundred yards ahead of us. The last plane was just coming in for his two penny worth when he saw our column. He turned and came straight down at us, with his cannons blazing and he dropped a couple of bombs which lucky for us landed in soft earth in the fields. Back in England we had sewn our aircraft recognition panels into big sheets so when we laid these out the pilot spotted them on his second run in and veered off, with quite a few shouts to the effect of doubting his parentage ringing in his ears, though he was not really to blame, only forward troops should display recognition signals, but the clowns back on the beaches were doing it.
Norman Waterhouse - the first British soldier to enter Bayeux
I spoke to a bloke in Normandy in 1994 called Norman Waterhouse and he was in C Coy on bikes then, he told me a tale, it seems the Navy were dropping their shells in the wrong place so his CO told him to get on his bike and find the observation officer, He kept riding until he entered this town which was still occupied by the Germans who were busy loading wagons, trucks etc, funnily enough though he was not recognised by them but some French people realised he was a British soldier and hid him until the town was occupied the following day......Norman Waterhouse was the first British soldier to enter Bayeux!
Lingevres
Only patrol activity was recorded until the heavy fighting at Lingevres on June 14th. Just before this we captured a German QM Stores and in it were about 40 cases of good quality champagne. During this time we were digging mortar pits every day and the weather was glorious so we needed a large 'liquid' intake.Our Platoon Sgt Billy Boyd stopped us from guzzling the champagne and rationed us to two bottles each, as left alone we would have been as drunk as monkeys in no time. From the first week ashore my memory tends to be a bit confused as the days tended to run into each other I know our first real brush with the enemy was on June 13th, We (the mortars) were supporting B Coy in a probing attack, I believe to test the Germans strength. Anyway we were firing away and the lads went in, and the next thing we knew we were having to swing the guns over to the right as the jerries were counter attacking. He was famous for the speed in which he could put in a counter attack and B Coy had to withdraw..... the following day it took a Brigade to do what B Coy were supposed to have done! We moved into position just before Lingevres and jumped out of the carriers, fire seemed to be coming from the direction of a hedge just on our left. I was carrying a Sten at the time and our Sgt, Joe Farrage, told me to rake the hedge with it, I gave it a couple of bursts and the firing stopped. We did not bother to dig the guns in as we knew we would not be there long. The German front line ran along the leading edge of a wood before the village of Lingevres. The scene looked like a something from WW1, a mass of bursting shells, trees being thrown into the air, there were tanks on fire all over the place and planes dive bombing, a real hell on earth. It was hard to imagine that anything could survive such an onslaught, but, when the rifle Companies started to advance through the corn fields the Spandaus started to chop them to ribbons. Men were going forward just like you see in the pictures of the First World War Somme battle, rifles held at the high port. Men were coming through our position and begging us to give them water, so we gave them all we had, as you cannot see a man go thirsty and anyway we always had at least a jerry can of water between the five men.
The 2nd Bn Gloucesters relieved us and when we were coming back we passed a few men, about a platoon in number, when I spotted my two old mates Tommy Cooke and Alf Barlow, Alf had taken over the Bren gun when I had left, I shouted to them and asked were the rest of the Company was and they told me that they were the only ones left. When we were relieved at Lingevres the 9th were pulled back on rest and refit but the Mortars were not so lucky, as we had to go and support the 1st Hampshire's of the 231 Brigade who were going to attack the following morning. We got into position at night and things did not 'feel' right, and when dawn broke we could see that we were on a forward facing slope and in front of the 1st Dorsets. We were not even dug in......everything was dead against good mortar practice, and we even had to fire at an angle to support the Hampshires. I bet the Germans could not believe their eyes, I know they soon found our position when we opened up, it was a case of fire a few bombs and then get under cover at the side of the carrier as fast as we could. He soon dropped one on No1 detachment and knocked out the lot. Thankfully no one was killed but there were some nasty wounds. We fired again and this time his return killed the Battalion signaller who was attached to our platoon. Captain Phillips our Officer must have thought that's enough and gave the order to cease firing and pull back. You have never seen mortars moved so fast, on our gun I just whipped off the sights and the others just lifted it in one piece onto the back of the carrier, and we did not have to fire again in that action because the Hampshires had gone in and taken their objective.
Smoke bombs
After that episode we spent some time in the Tilly and Hattot area. We were on a shoot one day and whilst firing the fins broke off the bomb before it emerged from the barrel and of course with nothing to guide it the bomb went all over the place, finally coming to rest on the Battalion HQ. Lt Col Mogg, our CO, was not a happy man! It was the practice at this time to range with 'smoke' bombs as it was easier for the person observing the fall of shot. One evening when our officer was telling us the gen on what was going to happen, he mentioned that we had to stop using 'smoke' for ranging as the Germans have complained. We fell about laughing thinking it was a joke, but he was serious, they said it comes under chemical warfare and it is against the Geneva Convention........its a funny old world were you can blow a man to bits with a shell but you cannot burn him with phosphorus.
A lucky escape
I went on OP one day with Sgt John Savage. We both got on well together, we were from the same town and 'spoke' the same language. The OP was in a farmhouse bedroom, so we took it in turns at observing while the other lay on the bed and had a kip. We had been doing this for some time when a Corporal from the Pioneer Platoon came in the room and he said he was looking for booby traps. He knew we had been lying on the bed but he checked it anyway. The bed had been booby trapped, and but for the clumsy work of some German soldier we would have been spread all over the bedroom.
A Cup of Tea for Tommy Cooke
The next stage was the crossing of the Seine at Vernon and the run through northern France. We were now entering an area of well known WW1 place names,. We spent a night in a house in Beuvias and the Maquais seemed to have something to do with it because they were coming and going all night. Later we pulled into Bethune. A crowd of kids gathered round the carriers, and one said "give us a cigarette Tommy and we'll sing Tipperary". At a place not far from Lille we had a brush with a German SP gun and they were causing us quite a bit of trouble. Sgt Farrage had gone out on OP and I was sat at the back of a haystack writing a letter home when a chap from B Coy came up to me and asked me if I was a mate of Tommy Cooke. I said yes, and then he told me he had just been killed, and that the same shell had wounded Sgt Farrage. I felt totally gutted, though we were not in the same Coy we managed to see each other whenever possible. I told my Mother in the letter what had happened, as she had met him once when we were on disembarkation leave.
In 1995 Tony Colgan and myself toured the battle sites of WW1, and we knew that Tommy, who was from Stalybridge, had been buried in the London cemetery at High Wood on the Somme. We had got the information from the War Graves Commission. I put a cross on his grave and I also buried a tea bag. Tommy would have liked that, he loved a brew. The last time I saw Tommy alive he had come round the Mortar lines and we were just brewing up. "Smashing, I am just in time," he said.
Belgium
The next highlight was our entry into Brussels in September 1944, - talk about hail the conquering heroes. The stuff that was coming into the carrier, - bottles of beer , fruit and flowers. We had to keep stopping because of the crowds of people. One time a woman came to the side of the carrier with these two absolutely gorgeous young women and asked if we would kiss her daughters.....the things a British Tommy has to do for King and Country!! Old Batchy, our driver was doing his nut as he was missing all the fun. Two of the lads went back into Brussels that night. They just got back in time as we were moving off or they would have been in real trouble, but they didn't care. One of them took his shirt off, and he was covered in lipstick.
Julian's Bar
We went from Nigmegen over the bridge which was always under fire to what was known as the Island. Elest and Bemel were the two best known places, but when you began to dig in, you went down a spade depth and it filled with water, it was a really miserable place. One day Jimmy Brown, who was acting Platoon Sgt, and who I had just spent the 72 hr leave in Brussels with, came over to me and said "get your kit and report to HQ" I asked him what it was all about but he did not know exactly he just said something about it being way back out of the line so it's better than here. The first person I ran into at HQ was Teddy Cowell. I slapped him on the back in greeting and he said "go easy I have still got shrapnel in me and it could move". He was on this caper as well and he believed we were going back to somewhere in Belgium to prepare billets for the Battalion. There were two officers, Major Scott and Captain Griffiss, and about twenty of us. The first night we spent in a pub in Bruges sleeping on the floor. In the middle of the next morning we stopped in Ypres town square right outside the famous Cloth Hall. Major Scott came round and said "right lads you can have a look around" as he was going to see the local Mayor. The Cloth Hall was just as it had been left after WW1 and it felt rather strange standing there knowing my dad had marched past this very spot twenty odd years earlier. When Major Scott returned we were told we were going to Poperinghe a few miles further on. During WW1 Poperinghe was the railhead for the Ypres salient so most people could speak English. The 50 Div was breaking up and our purpose here was to prepare billets for the 9th Battalion. On our first night Teddy Cowell and myself ended up in a pub called "Julians Bar" and we had a great time with a bunch of Belgian WW1 veterans, this became our "local" during our spare time. We had been in Poperinghe for about ten days waiting for something to happen when word came through that we were to go back to the battalion. The powers that be had decided not to break up the 9th but to put us in the 131 Lorried Infantry Brigade in the 7th Armoured Div but all the old soldiers had gone home and we had quite a large draft of men from the 10th & 11th Battalions. On our way back we stopped the night at Ghent and whilst I was in the toilets a couple of Jocks from the 51st Highland Div walked in.....I thought, here we go....trouble. The 50th & 51st did not get on, it all started way back in the desert when according to the media the 51st were the only ones doing any fighting, they asked what I was doing around here and I told them that the 50 Div was breaking up. They said "what's the Army thinking off", and they were probably thinking who were they going to fight with in the future!
Son of James Cooke, and of Bertha Cooke, of Stalybridge, Cheshire.
Remembered with honour LONDON CEMETERY AND EXTENSION, LONGUEVAL