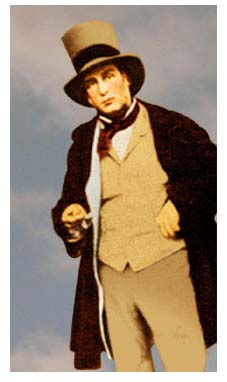 Henry Hopwood's Echuca
Henry Hopwood was born in Bolton in 1813, son of Henry, muslin manufacturer of Ridgeway Gates, an area now covered by a car park and extensions to the rear of The Victoria Hall.
Henry Hopwood was one of the many characters linked with the early settlement of Victoria, Australia. In 1834 he was convicted at Lancaster Assizes and was sentenced to 14 years transportation to Tasmania (Van Diemans Land) Australia for the crime of receiving stolen silk. He was incarcerated on a derelict wooden warship, serving as a prison hulk "William Metcalfe" in September 1834.
Such were his powers of persuasion and manipulation however that he had become a police constable in Tasmania by 1835! He was sentenced at least twice after that as a result of various liaisons with women. He married three times - once in England and twice in Australia. He spent two years in the infamous Port Arthur penal settlement before finally being released in 1846.
In May 1839 he was sentenced to two years in the Penal Settlement for 'aiding and abetting the abduction of his masters daughter'. This had a sobering effect for on December 22nd 1842 he received a 'ticket of leave' (a form of local parole) and once more became a policeman, then, on January 15th 1846, having served 12 years of his sentence, was granted a full pardon and stayed on in Tasmania.
He migrated northwards to the Murray River and found employment on its banks, in boiling - down works (animal carcass reduction for fats and fertilisers) later becoming overseer and staying until its closure in 1850, then seeing the opportunity for an independent life he purchased buildings, took them apart and re-erected them into a single edifice and christened it 'The New Road Inn', then obtained a liquor licence from the Lieut-Governor. He next built a punt to accommodate the growing band of travellers and cattle drovers, this he named 'Hopwood's Ferry', the site now Little Hopwood Street Echuca. The punt was designed with ramps fore and aft so that cattle could be transported across the river, the mechanism being a chain anchored on each river bank and looped round a hand - cranked drum amidships.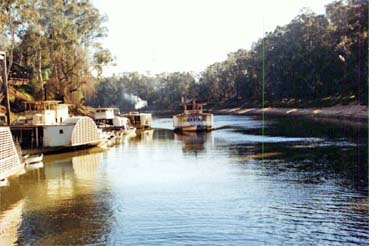 Due to the success of the Murray River trade, Hopwood submitted a plan for a town to the authorities, subsequently the Lieut-Governor arranged for an official survey in 1854, the area being named 'Echuca' and the first land sale authorised, Hopwood purchased various plots around his hotel on which, in 1855, he erected a bakery, butchery and boiling - down works, a large iron warehouse and a vegetable garden for his patrons.
In 1856, recognising that perhaps the days of the punt were numbered, he built a pontoon bridge over the river, with, no doubt, a bascule type opening to allow boats to pass, the following year he erected another bridge across the adjacent Campaspe River. Within another two years he had built a brick warehouse, organised a school, planted a vineyard, published a newspaper and opened, in March 1859, the Bridge Hotel, which survives to this day.
Henry Hopwood's marital life was a bit convoluted, extant records in Liverpool indicate that he was married to a Fanny Wogden (Walkden?), for a son, Henry Edwin, was born to them on June 1st 1834 and baptised fifteen days later, by which time Henry was awaiting transportation and does not appear to have seen his son, or his wife, ever again.
During his 'ticket of leave' period in Tasmania he formed an association with a Martha Bolton and a daughter, Alice was born in January 1844. Martha in the following November married one Peter Marley in Hobart, after about four months the marriage failed and it would appear that Martha left Tasmania with Henry and young Alice for Melbourne and married in that town in October 1854, the marriage lasted for only three years for Martha died in February 1857 aged 33.
In January 1860 Henry married once more, this time to Charlotte Walter from Radford, Warwick and retired to a suburb of Melbourne, not completely satisfied he returned to Echuca to run the Bridge Hotel until 1864 when he leased it to a manager and retired once more except for service on the Echuca Road Board. On January1 1869 he died aged 55, from typhoid fever and laid to rest in Echuca cemetery. His grave is kept in pristine condition and, with its marble headstone, is a regular tourist attraction. Despite his reputed arrogance, quarrelsome attitudes, and a penchant for petty disputes, he would show intense loyalty to friends and kindness to those deemed by him to be in need of help and as such is revered as the Father of Echuca.
Echuca's twin town of Moama was founded by James Maiden who had been sentenced to seven years transportation on the same day as Henry Hopwood and at the same Assizes. He and Hopwood were business rivals and clashed on a number of occasions, both operated punts across the Murray River. Maiden became a millionaire from his cattle dealings but died penniless in December 1869. Whether there was any early criminal links between them is a matter for some popular speculation. If there was then the secrets lie buried with them. Both their names are commemorated in street titles in both towns.