RAF Bomb Armourer Harold Hilton
Harold Hilton from Farnworth was born in 1915 and served in the Second World War from 1939-1945.
He served in North Africa and Southern Italy incuding the Isola di Lampedusa. His role in the RAF was of Bomb Armourer, this included placing bombs on aeroplanes.
Harold was awarded various medals for his time served including the North African Star and the Italian Star. He served most of his time with the late Joe Wild who after the war became a councillor and Mayor of Farnworth.
Harold had an excellent trained singing voice and entertained the troops on many occasions. The Entertainments' National Service Association ENSA wanted Harold to join them and entertain the many troops all over Europe, Africa and the Far East. However, Harold refused as he wanted to stay with the boys in his own regiment.
On leaving the war, Harold sang in many pubs, clubs and entertainment halls all over the Bolton area.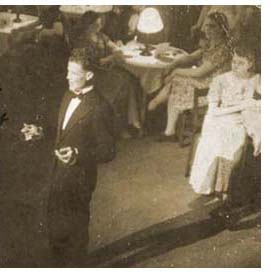 The music of this life of ours,
Would often be still,
Of chords of memory, closed to sound,
their happy joyous thrill,
So every day, some chimes we hear,
Which help us on our way,
Reminding us that happy times,
Grow sweeter every day