The Three Lives of George Laks
1 Life in Poland
George was born in Poland in 1919. His father owned an engineering works and having been educated at a grammar school he had enrolled at a Polytechnic. When Germany attacked Poland on 1 September 1939 George and his brother fled on their bikes eastwards from the advancing Germans to a farm owned by an aunt. There they helped on the land safe in the knowledge that they were in the Soviet controlled Eastern sector.
| | | |
| --- | --- | --- |
| | | |
| George and parents in 1921 | George and friend in 1923 | George the Serious scholar |
George, his mother & brother

George, May 1937

Family holidays at the Lake
2 Life as a prisoner of the Russians and in the armed services
Poland been shared between Russia and Germany under a pact agreed by Stalin and Hitler. Trouble was, however, just around the corner when George refused to take Russian citizenship when asked to do so by the Soviet authorities. Next thing he knew he was arrested early one morning and charged with being a spy. He was found guilty and was sentenced to 12 years hard labour. He served 18 months in several prisons. During his last three months of imprisonment he was transported by Trans-Siberian railway to Vladivostok and then by sea (5 days journey) to Magadan where he was working in a deep ore mine. On release he travelled back the same way except for a stop on the Lake Balkai - the largest and deepest lake and the one with sea seals.
When Germany attacked Russia, the Russians, desperate for British help (munitions, food, medical supplies etc) agreed to release Poles held in captivity and so George joined the Polish army in Russia. At first he helped to gather in the cotton harvest on a Soviet State farm in Tashkent, then crossed the Caspian sea on an oil tanker to guard the oil pipe at Kirkuk in Iraq. Then in 1942 a delegation from London invited George and his compatriots to join the Polish air force in Britain.
George accepted and arrived at Greenock via Bombay and Cape Town. He was stationed at first in Blackpool then trained as a wireless mechanic at RAF Halton and finally at Bolton Technical College.
San Marino, Italy 1945

George and his brother
3 Life in England with his wife Joyce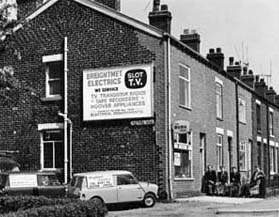 Breightmet Electrics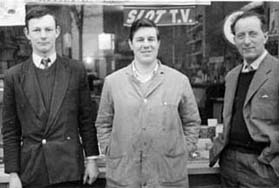 George (right) and Staff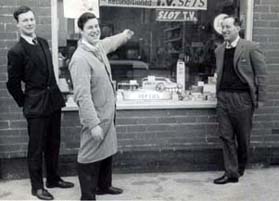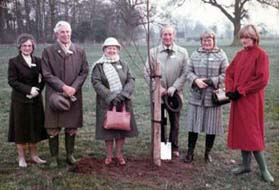 George and Joyce with Pricess Diana 1982
It was in Bolton that George met Joyce at the Palais De Dance and they became engaged to be married before George was shipped off to Italy 1944-6. They married in 1946 and had one daughter, but it was 1948 before George was demobbed from the air force. There being no jobs in radio available in civilian life George took a job in a cotton mill for three years as the assistant engine tender. This could best be described as Handyman / Jack-of-all-trades. In 1951 George as a reservist was even served with call up papers due to the troubles in Malaysia but he never actually had to serve. George then followed a stint at MetroVicks in Trafford Park and two and a half years at Marconi (then part of the English Electric).
When the parent company went into TV, George took a job as a mobile engineer training dealers etc. However, when offered a job in white goods (fridges, cookers, etc) he declined and took a job working on TV with Kendal Milnes for 3 years, but by this time he realised that he would be better off opening up on his own. Working from home, George opened his first shop in the 1950's. His wife Joyce was working at a solicitors and in her lunch break would buy electrical items for the shop. She eventually left the solicitors to work part time in the shop. By the 1970s, the company (Breightmet Electrics) had expanded to six shops employing some 30 people, some of whom have worked for the company for nearly 40 years.
One of George's main interests outside business has been tree planting but he admits that this was first sparked off by Joyce's interest in gardening. They acquired land at Ainsworth in Bury where they built a barn - planning permission for this not being required. The land being very extensive they planted here literally a forest (6-7000 trees) with the help of CHA members especially Ron and Vera Haslam.
Ron, with his tremendous enthusiasm, helped with the tree nursery. Eventually planning permission was obtained and they built a bungalow there and it was here that club members speak nostalgically of the barbecues and gatherings. When George and Joyce finally left Ainsworth, they sold the bungalow but donated the land to Woodland Trust where it is known to this day as George's Wood. Both are members of the North West Branch of the International Tree Foundation (formerly Men of the Trees). CHA members Marjorie Holden, Jean Derrick, Bert McGlynn and Lillian Cullen helped in the work of planting trees in schools over the North West.
George and Joyce's activities culminated with meeting the patron Prince Charles and Diana at Highgrove in 1982. Other projects that they associated with were the 'Memorial Wood' at Rivington, the Rose garden at Moss Bank Park and the pond on Moss Lane.
George was for eight years a governor at Crompton Fold Primary School where he gifted towards the library. A keen sportsman and swimmer in his youth, George has played table tennis regularly in the second division of the Bolton League and even last year played regularly in the fifth division. Nineteen years ago he beat Angela Holt, the current English Ladies champion - true she was only young at the time but even so, an achievement! Also a bridge player, yet another activity I have just found out about, and I bet I have only uncovered a fraction of a remarkable man's activities.
Thank you for the privilege of talking to you, George.