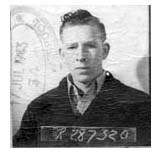 Fred Saunders in the Merchant Navy
Fred was 15 in 1941 when he served as a galley boy on a Polish Ship named SS Kosciuszko.
The ship took British Troops out east to different ports including Bombay. They also went to Ceylon to collect Australian troops. They sailed to Australia to take the troops home and then returned to Bombay. Here Fred signed off and it took him over two months to get home. However when he arrived in Britain he had no papers so he was assigned a certificate stamped by an immigration officer.