Bill Morris - Flying with the Free French
Bill Morris lives in Halliwell and served in the RAF in the Second World War. His wife Sarah has compiled this account of Bill's War.
William Morris was born on 27 November 1921 and left St Mary's Catholic School, Higher Bridge Street, Bolton at the age of 14, working at the Knowles Cotton Mill until the outbreak of war. In 1941 he was called up and chose the RAF, training to be a wireless and operator air gunner. He was posted to Yatesbury, Scampton, Wisbech, South Kensington, Stormy Downs, and Hartford Bridge. He became a wireless operator air gunner and was promoted to Sergeant. From there he flew in 32 operations over a period of 10 months, including D Day landings when they laid smoke in front of the Invasion Fleet.
Bill describes the day:
" Early call for Sergeant Morris." My crew and I went to breakfast at 2.30am and then gathered in the briefing room. When everyone was settled and all crews present the doors were locked. A high ranking officer said 'good morning gentlemen, today is D Day, and what you have been trained to do you will do today. Of course those words provided a big murmur of excitement from all of us, as we would be providing a smokescreen for the invasion fleets. After the briefing we settled in our trusty Boston aircraft. It was about 5am when we took off from Hartford Bridge aerodrome in relays of two in the first lane with the 324 French squadron to arrive at our designated target to lay smoke for the invasion fleet. We flew 50 feet above the waves and as we were coming up to our target my pilot Hank said, " Bill, helmet off, gas mask on", as we both knew I could be poisoned by the billowing smoke as I was on an outside turret being an air gunner. Each aircraft carried 4 canisters that were timed 11 seconds per canister to discharge the smoke, which took 44 seconds. We had to fly straight and narrow, and during this time I wasn't in contact with inside the plane, which to me felt like forever. As Hank pulled away I was glad to get my mask off and helmet on, and in contact with my mates again. The other planes were in line to take off and do exactly the same flying in relays of two. It was pretty scary flying so low but when we started to climb towards the French coast it was a relief when Hank said excitedly, " Bill, did you see them (the invasion fleet)? I said, " Who is going to stop that lot?".... We were all so elated and proud to have done our little bit on this special day. Unfortunately we could see one plane on its own, the other one had gone down, so very sad."
After a tour of 32 operations they were then retired from operations and sent to different locations as instructors. Bill's pilot Hank went home to Canada, Harry Poole, his navigator went as an instructor on navigation, his under gunner went back to Australia, and Bill became an instructor on wireless operating and was posted to an advanced flying unit (AFU) flying in the old Avro Ansons on the Mull of Galloway, called West Freugh. Then after 10 months he was posted to Bishops Court, Northern Ireland. When Bill was demobbed in June 1946 he had flown 1000 hours and been in the RAF just over 5 years.
His squadrons were 88 (17ops) and 342 (15ops) squadrons. 342 (Lorraine) Squadron was a Free French squadron flying with the RAF - British aircrew - including Bill - were seconded to make up numbers lost in action.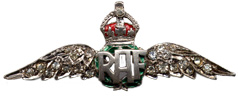 Sweetheart brooch Bill gave to Sarah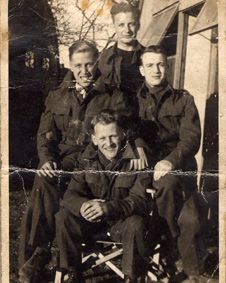 Bill Morris (far left)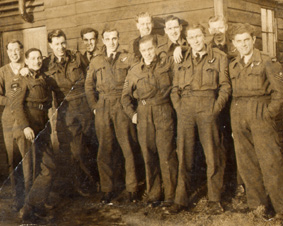 Bill and mates in Herefordshire