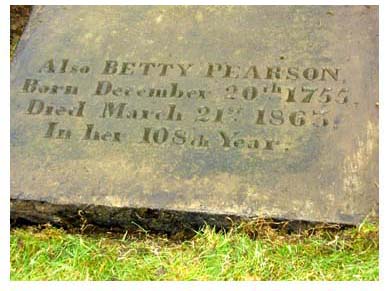 Betty Whipp -
The Oldest Woman in Farnworth
Betty Whipp or Betty Pearson died in her 108th year
Betty was born 20 Dec 1755 in Butts Bridge, Bedford, Leigh, Lancashire, England, and died 21 Mar 1863 in Farnworth, Bolton, Lancashire, England. Betty was baptized at Culcheth Hall, near Warrington, as this was the nearest place for worship at the time.
She married (1) SAMUEL WHIPP a butcher, in Leigh, Lancashire, England. He was born Abt. 1755. Together they had 11 children and her daughter Jane being the ancestor we will follow in this article.
She also married (2) JOHN PEARSON 08 Apr 1806 in Leigh, Lancashire, England.
In 1861 Old Betty was living with John Harrison her son in law, and his wife Jane (Betty's daughter from her first marriage to William Whip) in King Street, Farnworth.
Betty Whip was renowned for smoking a clay pipe and eating pobs - milk and bread. During her life she was a hand loom weaver, carding and spinning wool on her knee". She was also recognized for creating love potions or casting evil spells on human and beast to encourage ill health or death.
In 1851 she was living and working as a barmaid until 100 years old, in the White Horse Inn, a public house on Market Street, Pennington, Leigh, Lancashire.
In 1863 Betty died in her 108th year and was buried in St John's Church yard in Farnworth.
The following is an extract from B T Barton's History of Farnworth and Kearsley published in 1887:
"One of the most remarkable of all curious dwellers in the district of Farnworth and Kearsley was Betty Pearson, who died on the 28 March 1863 in the 109th year of her age. She died at the residence of her daughter, Mrs Harrison, in King Street, Farnworth. She was born on the 21st December 1755 at Butt's Bridge, Bedford ( in Leigh parish), but resided nearly the whole of her life at Astley, Leigh and Farnworth.In her early life she used to fetch wool and cotton from the warehouse, card it, spin it into yarn, and weave it into cloth before she returned to the warehouse.
She was married twice. By her first husband, Samuel Whip, a butcher, she had eleven children, five boys and six girls. She was 24 years of age when first married. When Betty Pearson died, her youngest daughter, who as we have said resided in King Street, Farnworth was 65 years of age, and the mother of fifteen children, twelve of whom were living when their grandmother died, seven sons and five daughters, the youngest being then 18 years of age.
Mrs Pearson's second husband was a farm labourer, named John Pearson, and was 21 years younger than her. By this husband, old Betty had, at the unusual age of 52, one daughter, born 12 July 1807. John Pearson died 34 years before old Betty, his wife.
Mrs Pearson's eldest child was 79 years of age when she (Mrs Pearson) died, and she had then, residing at Kidderminster, a granddaughter in her 60th year.
Old Betty resided 49 in the house where her youngest child was born. About the time when she was bordering on 100 years, she was engaged as a barmaid at the White Horse Inn at Leigh, where, owing to her age and liveliness she was a great souce of attraction. About nine years after she went to live with her daughter she was seized with an attack of paralysis, from the effects of which she never recovered. She was always ready and hearty at mealtimes, and her favourite food was a bowl of milk solidified by bread. Of a tobacco pipe she was devotedly fond. Her remains were interred in Farnworth Parish Churchyard".
1 Betty b: 20 Dec 1755 in Butts Bridge, Bedford, Leigh, Lancashire, England d: 21 Mar 1863 in Farnworth, Bolton, Lancashire, England
.. +Samuel Whipp b: Abt. 1755 m: 19 Jul 1785 in Leigh, Lancashire, England
........ 2 Ellen Whipp b: Abt. 1790 in Astley, Lancashire, England
........ 2 John Whipp b: Abt. 1793 in Astley, Lancashire, England
........ 2 Susannah Whipp b: Abt. 1793 in Astley, Lancashire, England
........ 2 Sarah Whipp b: Abt. 1795 in Astley, Lancashire, England
........ 2 Jane Whipp b: Abt. 1798 in Astley, Lancashire, England d: 29 Mar 1888 in Farnworth, Bolton, Lancashire, England
............ +John Harrison b: 12 Sep 1795 in Lowest Hulton, Deane, Lancashire, England m: 11 Apr 1816 in Deane, Lancashire, England d: 02 Sep 1860 in Farnworth, Bolton, Lancashire, England Father: Roger Harrison Mother: Mary Morris
................... 3 William Harrison b: Abt. 1820 in Tyldesley, Lancashire, England d: 25 Jan 1896 in Farnworth, Lancashire, England
....................... +Sarah b: Abt. 1819 in Atherton, Lancashire, England
............................. 4 Thomas Harrison b: Abt. 1841 in Tyldesley, Lancashire, England
............................. 4 James Harrison b: Abt. 1846 in Bolton, Lancashire, England
............................. 4 William Harrison b: Abt. 1849 in Tyldesley, Lancashire, England
............................. 4 Mary Harrison b: Abt. 1850 in Tyldesley, Lancashire, England
................... *2nd Wife of William Harrison:
....................... +Ann Brindle b: Abt. 1822 in Farnworth, Lancashire, England m: Sep 1845 in Bolton, Lancashire, England d: 22 Aug 1890 in Farnworth, Lancashire, England
............................. 4 Ann Knight Harrison b: Abt. 1847 in Farnworth, Lancashire, England
............................. 4 William Harrison b: Abt. 1855 in Farnworth, Lancashire, England d: 14 Dec 1924 in Farnworth, Bolton
................................. +Mary Ryder b: 1855 in Kearsley, Lancashire, England m: 1877 in Bolton, Lancashire, England d: 26 Feb 1915 in Farnworth, Bolton Father: Thomas Ryder Mother: Ellen Isherwood
........................................ 5 Emily Harrison b: Abt. 1878 in Farnworth, Lancashire, England
............................................ +Harry Unsworth b: Abt. 1878 in Kearsley, Lancashire, England m: 1897 in Bolton, Lancashire, England Father: William Unsworth Mother: Martha
........................................ 5 Thomas Harrison b: Abt. 1880 in Farnworth, Lancashire, England
........................................ 5 Roger Harrison b: Abt. 1883 in Farnworth, Lancashire, England
........................................ 5 Annie Harrison b: Abt. 1885 in Farnworth, Lancashire, England
........................................ 5 John Harrison b: Abt. 1887 in Farnworth, Lancashire, England
........................................ 5 Samuel Harrison b: Abt. 1891 in Farnworth, Lancashire, England
........................................ 5 Wilfred Harrison b: Abt. 1894 in Farnworth, Lancashire, England
........................................ 5 Alfred Harrison b: Abt. 1897 in Farnworth, Lancashire, England
........................................ 5 Jane Ellen Harrison b: Abt. 1899 in Farnworth, Lancashire, England
............................. 4 James Harrison b: Apr 1859 in Farnworth, Bolton d: 30 Mar 1860 in Farnworth, Bolton
................... 3 Robert Harrison b: 1822 in Tyldesley, Lancashire, England d: Sep 1898 in Bolton, Lancashire, England
....................... +Alice Mutchead b: Abt. 1821 in Ainsworth, Lancashire, England m: in Bolton, Lancashire, England Mother: Betty Mutchead
............................. 4 Betsey Harrison b: Abt. 1842 in Farnworth, Lancashire, England
............................. 4 Unknown Harrison b: Abt. 1843 in Farnworth, Lancashire, England
........................................ 5 Walter Harrison b: Abt. 1863 in Farnworth, Lancashire, England
............................................ +Hannah Thomason b: Abt. 1871 in Bolton, Lancashire, England m: 1892 in Bolton, Lancashire, England Father: John Thomason Mother: Mary Ann Holt
............................. 4 Jane Harrison b: Abt. 1844 in Farnworth, Lancashire, England
............................. 4 Mary Harrison b: Abt. 1846 in Farnworth, Lancashire, England
............................. 4 Margaret Harrison b: Abt. 1849 in Farnworth, Lancashire, England
............................. 4 James Thomas Harrison b: 1854 in Farnworth, Lancashire, England
............................. 4 Robert Harrison b: Abt. 1855 in Farnworth, Lancashire, England
............................. 4 Matilda Harrison b: Abt. 1859 in Farnworth, Lancashire, England
............................. 4 John Harrison b: Abt. 1863 in Farnworth, Lancashire, England
................................. +Amelia Cooper b: Abt. 1863 in Burnley, Lancashire, England m: Mar 1892 in Burnley, Lancashire, England Father: U
........................................ 5 Florence Henton Cooper b: Abt. 1884 in Burnley, Lancashire, England
........................................ 5 Ernest Harrison b: Abt. 1898 in Burnley, Lancashire, England
................... 3 Peter Harrison b: 1824 in Deane, Bolton, Lancashire, England
....................... +Sarah Kerfot b: 1824 m: 30 Nov 1851 in St John the Evangelist, Farnworth with Kearsley, Lancashire, England Father: John Kerfot
................... 3 Alice Harrison b: Abt. 1826 in Farnworth, Lancashire, England
................... 3 Thomas Harrison b: Abt. 1826 in Great Lever, Lancashire, England d: Bet. 1881 - 1888
....................... +Cecily Wignall b: Abt. 1830 in Penwortham, Lancashire, England m: Mar 1852 in Manchester Father: William Wignall Mother: Jane
............................. 4 William Francis Harrison b: Abt. 1853 in Bolton, Lancashire, England d: Jul 1853 in Farnworth, Lancashire, England
............................. 4 Robert Harrison b: Abt. 1855 in Farnworth, Lancashire, England
............................. 4 John Baptist Harrison b: Abt. 1859 in Farnworth, Lancashire, England
................................. +Mary Ann May b: Abt. 1859 in Bedford, Leigh, Lancashire, England m: 1883 in Bolton, Lancashire, England
........................................ 5 Cecily G Harrison b: Abt. 1884 in Little Hulton, Worsley, England
........................................ 5 Austin Harrison b: Abt. 1886 in Little Hulton, Worsley, England
............................. 4 Mary Agnes Harrison b: Abt. 1860 in Farnworth, Lancashire, England
............................. 4 Cecily Harrison b: Abt. 1862 in Farnworth, Lancashire, England
............................. 4 Edmund Harrison b: Abt. 1865 in Farnworth, Lancashire, England
................................. +Annie GAVAN b: Abt. 1865 in Scotland m: 1889 in Bolton, Lancashire, England
........................................ 5 Helen Cecily Harrison b: Sep 1893 in Farnworth, Lancashire, England
........................................ 5 Joseph Edmund Harrison b: Mar 1899 in Farnworth, Lancashire, England
............................. 4 Thomas Harrison b: Abt. 1868 in Farnworth, Lancashire, England
........................................ 5 Mary Harrison b: Abt. 1897 in Farnworth, Lancashire, England
............................. 4 Wilfred Harrison b: Abt. 1870 in Farnworth, Lancashire, England
............................. 4 Frances Jane Harrison b: Abt. 1872 in Farnworth, Lancashire, England
................................. +Bernard Flynn b: Abt. 1854 in Preston, Lancashire, England m: Sep 1898 in Bolton, Lancashire, England Father: Patrick Flynn
........................................ 5 Patrick Flynn b: Abt. 1880 in Farnworth, Lancashire, England
........................................ 5 Thomas Flynn b: Abt. 1882 in Preston, Lancashire, England
........................................ 5 Catherine Flynn b: Abt. 1884 in Preston, Lancashire, England
........................................ 5 Josephine Flynn b: Abt. 1886 in Farnworth, Lancashire, England
........................................ 5 Bernard Flynn b: Jun 1887 in Farnworth, Lancashire, England
................... 3 Peter Harrison b: Abt. 1827 in Farnworth, Lancashire, England
....................... +Sarah Taylor b: Abt. 1823 in Tyldesley, Lancashire, England m: 19 Aug 1855 in Cathedral, Manchester, Lancashire, England Father: Joseph Taylor Mother: Ann
............................. 4 John Thomas Harrison b: 1853 in Farnworth, Lancashire, England
................................. +Mary Whitehead b: Abt. 1854 in Farnworth, Lancashire, England m: 1882 in Bolton, Lancashire, England Father: Robert Whitehead Mother: Ellen
........................................ 5 Margaret Harrison b: Abt. 1884 in Farnworth, Lancashire, England
........................................ 5 Jane Harrison b: Abt. 1886 in Farnworth, Lancashire, England
........................................ 5 Robert Harrison b: Abt. 1888 in Farnworth, Lancashire, England
........................................ 5 Sarah E Harrison b: Abt. 1894 in Farnworth, Lancashire, England
............................. 4 Robert Harrison b: Abt. 1858 in Farnworth, Lancashire, England
................................. +Sarah Pheber b: Abt. 1853 in Bolton, Lancashire, England m: 1877 in Bolton, Lancashire, England Father: Thomas Pheber Mother: Elizabeth
........................................ 5 Lilly Harrison b: Abt. 1880 in Little Hulton, Lancashire, England
............................. 4 Peter Harrison b: Abt. 1861 in Farnworth, Lancashire, England
................................. +Margaret Allen b: Abt. 1854 in Little Hulton, Lancashire, England m: 1891 in Bolton, Lancashire, England Father: Isaiah Allen Mother: Betty Rushton
............................. 4 Samuel Harrison b: Abt. 1866 in Farnworth, Lancashire, England
................................. +Alice Ann Smith b: Abt. 1867 in Farnworth, Lancashire, England m: 1887 in Bolton, Lancashire, England
........................................ 5 James Harrison b: Abt. 1888 in Farnworth, Lancashire, England
........................................ 5 Emily Harrison b: Abt. 1893 in Farnworth, Lancashire, England
........................................ 5 Samuel Harrison b: Abt. 1895 in Farnworth, Lancashire, England
........................................ 5 Sarah Harrison b: Abt. 1897 in Farnworth, Lancashire, England
........................................ 5 Frank Harrison b: Abt. 1900 in Farnworth, Lancashire, England
................... 3 Abraham Harrison b: 21 Jul 1829 in Farnworth, Lancashire, England d: Jun 1884 in Farnworth, Lancashire, England
....................... +Catharine Collins b: 1833 in Sligo, Ireland m: 08 May 1853 in Catholic Chapel, Pilkington Street, Bolton, Lancashire, England d: Mar 1901 in Farnworth, Lancashire, England Father: Patrick Collins
............................. 4 James Harrison b: 1853 in Farnworth, Bolton, Lancashire, England
............................. 4 Elizabeth Harrison b: 1854 in Farnworth, Bolton, Lancashire, England
............................. 4 Jane Harrison b: 1855 in Farnworth, Bolton, Lancashire, England
............................. 4 Jane Harrison b: 1857 in Farnworth, Bolton, Lancashire, England
............................. 4 Rachel Harrison b: 1858 in Farnworth, Bolton, Lancashire, England
............................. 4 James Harrison b: 1860 in Farnworth, Bolton, Lancashire, England
................................. +Mary Ann Bourke b: 1862 in Farnworth, Bolton, Lancashire m: 1884 in Bolton, Lancashire, England Mother: Mary
........................................ 5 Sarah J Harrison b: 1885 in Farnworth
........................................ 5 Abraham Harrison b: 1887 in Farnworth
........................................ 5 John Harrison b: 1890 in Farnworth
........................................ 5 Mary H Harrison b: 1892 in Dukinfield, Cheshire
........................................ 5 Elizabeth Harrison b: 1894 in Dukinfield, Cheshire
........................................ 5 William Harrison b: 1895 in Dukinfield, Cheshire
........................................ 5 James Harrison b: 1898 in Dukinfield, Cheshire
............................. 4 Alice Harrison b: 1861 in Farnworth, Bolton, Lancashire, England
............................. 4 Rachel Harrison b: 1862 in Farnworth, Bolton, Lancashire, England
................................. +John Thomas Isherwood b: 1862 in Prestolee, Bury, Lancashire, England m: 1884 in Bolton, Lancashire, England Father: Edward Isherwood Mother: Mary Nesbit
........................................ 5 Mary Isherwood b: 1886 in Kearsley
........................................ 5 John Isherwood b: 1887 in Kearsley
........................................ 5 Ellis Isherwood b: 1895 in Kearsley
............................. 4 Mary Ann Harrison b: 1864 in Farnworth, Bolton, Lancashire, England
................................. +Thomas Charlton b: Abt. 1871 in Little Hulton
............................. 4 Alice Harrison b: 1871 in Farnworth, Bolton, Lancashire, England d: in Farnworth, Bolton, Lancashire, England
................................. +Thomas Horridge b: Dec 1870 in BOLTON Lancashire, England m: 1896 in Bolton, Lancashire, England Father: Peter Horridge Mother: Nancy Briercliffe
........................................ 5 Thomas Horridge b: 1895
........................................ 5 James Horridge b: 1899
............................. 4 William Harrison b: 1873 in Farnworth, Bolton, Lancashire, England d: 14 Apr 1939 in Farnworth
................................. +Mary Ann O'Connell b: 29 Nov 1877 in Derby, Derbyshire m: 15 Aug 1896 in Saint Gregory The Great, Farnworth d: 29 Mar 1962 in 80 Ellesmere Street, Farnworth Father: Daniel O'Connell Mother: Jane Pinkney
........................................ 5 Catherine Harrison b: Abt. 1903 in Farnworth, Bolton, Lancashire, England d: 21 Jul 1906 in Farnworth
........................................ 5 Rose Ellen Harrison b: 24 Jan 1907 in 3 Brindle Square, Farnworth, Bolton, Lancashire, England d: 2003 in Farnworth, Bolton, Lancashire, England
............................................ +Thomas Taylor b: Abt. 1907 in London m: 04 Aug 1930 in Church of Saint Gregory The Great, Presto Street, Farnworth d: Abt. 1965 in Farnworth Father: Samuel Taylor
........................................ 5 Abraham Harrison b: Abt. 1908 in Farnworth, Bolton, Lancashire, England d: in Isle Of Man
............................................ +Nora Berry b: Abt. 1905 in Lancashire, England d: in Isle Of Man
........................................ 5 Mary Harrison b: Abt. 1910 in Farnworth, Bolton, Lancashire, England
............................................ +James Darlington b: Abt. 1910
........................................ 5 Frances M Harrison b: 1911 in Farnworth, Bolton, Lancashire, England d: 13 Dec 1911
........................................ 5 Ellen Harrison b: 1913 in Farnworth, Bolton, Lancashire, England d: 14 Mar 1914
........................................ 5 Margaret Harrison b: 1914 in Farnworth, Bolton, Lancashire, England d: 01 Jan 1999
............................................ +Wilfred Mort b: Abt. 1912 in BOLTON Lancashire, England
........................................ 5 Female Harrison 1916
............................................ +Harold Hilton b: 23 Feb 1915 in Little Hulton d: Jan 1997 in Bolton, Lancashire, England Hospital Father: Thomas Hilton Mother: Mary Grundy
........................................ 5 Kathleen Harrison b: 1918 in Farnworth, Bolton, Lancashire, England d: 31 Dec 1923
........................................ 5 William Harrison b: Abt. 1920 in Farnworth, Bolton, Lancashire, England
............................................ +Annie Arthurs b: Abt. 1920
............................. 4 George Harrison b: 1880 in Farnworth, Bolton, Lancashire, England
................... 3 Richard Harrison b: Abt. 1831 in Farnworth, Lancashire, England
................... 3 Rachel Harrison b: Abt. 1831 in Farnworth, Lancashire, England d: 01 Feb 1910 in Farnworth, Bolton
................... 3 Alice Harrison b: Abt. 1831 in Farnworth, Lancashire, England d: 24 Feb 1904 in Farnworth, Bolton
................... 3 Mary Harrison b: 1833 in Farnworth, Lancashire, England
................... 3 Roger Harrison b: 23 May 1835 in Farnworth, Lancashire, England d: Abt. 1867
....................... +Alice or Elizabeth Roscoe b: Abt. 1837 in Farnworth, Bolton, Lancashire, England m: 17 Jul 1854 in Deane, Bolton, Lancashire, England Father: Roger Roscoe
................... 3 Betsy Harrison b: Abt. 1839 in Farnworth, Lancashire, England
................... 3 Grace Harrison b: Jun 1840 in Farnworth, Lancashire, England d: Dec 1908 in Farnworth, Bolton
....................... +Joseph Hewart b: Abt. 1842 in Farnworth, Bolton, Lancashire, England m: 1868 in Bolton, Lancashire, England d: Mar 1888 in Farnworth, Bolton Father: James Hewart Mother: Mary
............................. 4 James Hewart b: Sep 1873 in Farnworth, Bolton, Lancashire, England
................................. +Mary Ann Greenwood b: Abt. 1871 in Radcliffe, Lancashire, England m: 1896 in Bolton, Lancashire, England
........................................ 5 Joe Hewart b: Abt. 1898 in Farnworth, Bolton, Lancashire, England
............................................ +Jessie
........................................ 5 Hannah Hewart b: Abt. 1900 in Farnworth, Bolton, Lancashire, England
........................................ 5 Sarah Hewart b: 13 Dec 1902 in Farnworth, Bolton, Lancashire, England
................... 3 John Harrison b: Abt. 1846 in Farnworth, Lancashire, England
....................... +Helen Duncan b: Abt. 1847 in Scotland
............................. 4 William R Duncan b: 1871 in Lanarkshire, Scotland
............................. 4 Annie R Duncan b: 1875 in Liverpool, Lancashire, England
............................. 4 James Harrison b: Abt. 1880 in Farnworth, Bolton, Lancashire, England
............................. 4 John Harrison b: Abt. 1881 in Farnworth, Bolton, Lancashire, England
............................. 4 Walter Harrison b: Abt. 1882 in Farnworth, Bolton, Lancashire, England
............................. 4 Thomas Harrison b: Abt. 1883 in Farnworth, Bolton, Lancashire, England
........ 2 Jenny Whipp b: Abt. 1799 in Astley, Lancashire, England
........ 2 Thomas Whipp b: Abt. 1800 in Astley, Lancashire, England
*2nd Husband of Betty:
.. +John Pearson m: 08 Apr 1806 in Leigh, Lancashire, England
........ 2 Catharine Pearson b: Abt. 1807 in Astley, Lancashire, England