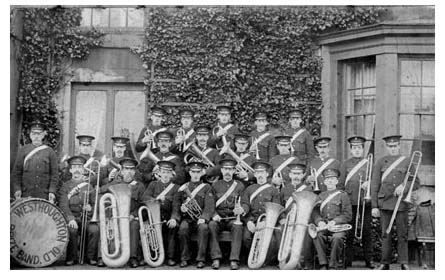 Westhoughton Old Band
The brass band movement originated in the early part of the nineteenth century and was traditionally strong in the North of England, resulting in the formation of thousands of brass bands, the Old Band being founded in 1854. The first event they played a part in was the celebration of the end of the Crimean War in 1856. In 1869 there was a grand draw to raise money for uniforms. Prizes were a harmonium, a fat pig, a sack of flour, a cheese, an iron bedstead, and a fat duck.
Wingates Band was formed in 1873 by members of the Bible Class of Wingates Independent Methodist church, after a challenge from their friends in the Old Band. The original name of the drum and fife band they formed was Westhoughton Good Templars, but within a year they switched to brass, and in 1878 the name was changed to Wingates Temperance Band, a name that lasted until 1980, when the word 'temperance' was dropped. This internationally renowned band, one of the best brass bands of all time, has won over 18 championships to date and has been in the final of the British Open 87 times.