Little Lever Remembrance
Little Lever Library was opened on 17 August 1940 by Lady Openshaw, Chairman of Lancashire County Libraries. It was a poignant moment, for the library also serves as a war memorial to the men killed in the First World War. The memorial itself is a tablet of Coniston sea green slate, the centre being a carved panel in Stancliffe stone. The sculptor was Mr.W H Doxey of Levenshulme. Mr Seddon, Trustee of the War Memorial Committee, said that 'although it was a little late in the day it was a suitable memorial to those men who gave their lives in the Great War'.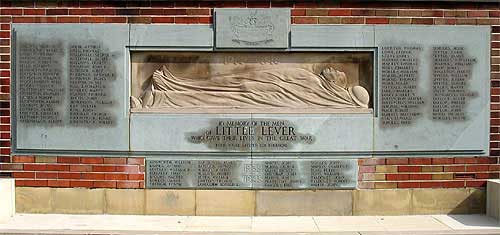 Each name marks a tragic and heroic story. In the First World War three brothers, William, Joseph, and Samuel Siviter were killed, as were George Arnold and James Halliwell, the sons of Elizabeth and James Halliwell who for a time kept the Grapes pub.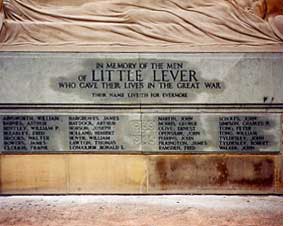 In the Second World War, Charles P Simpson, the surveyor to Little Lever Council was killed. In the First World War most of the men who joined up had been no further than Blackpool. Suddenly they were on their way to France. Many of the men were miners.
There are 28 names from the Second World War. The panel was unveiled on Remembrance Day 1950, and watched by hundreds of people. There was no martial pomp that day, and the only uniforms were those of the Salvation Army band. The sun broke through as the last post was played.
It was very moving as the relatives of the 28 dead moved forward in single file to lay wreaths and flowers. As it said in the Farnworth Journal 'It was not just the raw edge of the wind which brought tears to the eyes of many spectators."