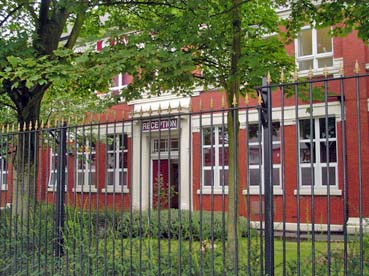 Harper Green School in 2004
Harper Green School
Harper Green School is very familar to me as I attended the school from 1947 to 1951. The building shown faces Harper Green Road and in my day the door shown was only used by Staff and visitors and of course the Head Master who was Mr Sam Astle I think he my have been the first Head Master of the school. Mr Astles office was behind the three windows on the left of the door. The only time I was ever in that office was to collect the strap and punishment book, which as I recall was used fairly liberally in those days.
I do remember two small old pit shafts opening up at some point after I had left, one was in the girls playground and the other was right outside the Headmaster's study, I do not recall any iron railings as in the picture, there was however a low wall along the length of the building but the railings had been removed presumably for the war effort. At the time I was at the School it was strickly segregated the boys section to the left of the door in the picture and girls to the right, there no mixing at all not even at play time.
My name is Alan Gregory, I was born and lived in New Bury, prior to Harper Green School I attended St James's School New Bury, I lived there until I married when I moved to Little Lever. In 1970 my family and I moved to Stourport-on-Severn Worcester were I still live. I have very fond memories of my time at Harper Green School or to give it its full title Harper Green Secondry Modern School.
The school secretary was at the time a lady called Elsie Entwistle who we all had a crush on.