Farnworth Paper Mills
Known as Farnworth Bridge Mill, and probably dating from the last decade of the seventeenth century, it came to be one of the largest in the country in the first half of the nineteenth century. It was Thomas Bonsor Crompton who made the mill famous in his lifetime, inventing the continuous drying process when he was only 26 and completely revolutionising the industry. He was the first to utilise cotton waste in paper manufacture and supplied paper for both the London and provincial press, later becoming the proprietor of the Morning Post. When he died in 1858 a contemporary described him as the 'founder of Farnworth', a distinction he shares with James Rothwell Barnes.
The coat of arms of the Borough of Farnworth (below) featured three hornets (hornets make paper-like nests) - symbolising the importance of paper manufacture to the town.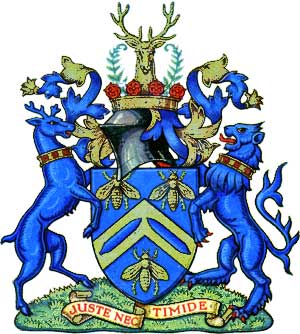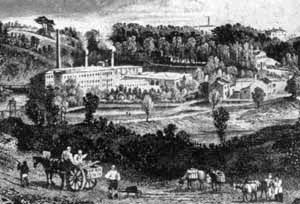 Farnworth Paper Mills, from an early engraving