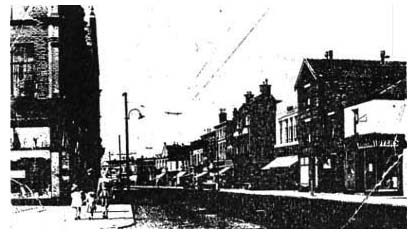 Farnworth Days
Some of the stories here have told of how New Bury was once a little village in its own right. Fields surrounded it. But, during the 1930s, these fields started to be built on. The council built new homes for the people of Farnworth town centre to live in. It was part of a process of 'slum clearance' and stopping overcrowding. This process carried on through the forties and fifties, with the result that New Bury became a major residential area.
A lot came from Kent Street, Bridgewater Street, Frederick Street, Thomas Street, York Street, Ellesmere Street, Russell Street, Fold Street, William Street, Black Horse Street and David Street. It's the area shown on the map, surrounded by Market Street, Longcauseway, Albert Road and Brackley Street. Most of it doesn't exist any more, its been taken over by Asda and its car park, the Co-op (now Aldi) car park and new housing estates.
A lot of people around Farnworth classed this area as "rough". It had a bad reputation. The houses were the old, tiny, 'two up' and 'two down' sort, built in the 19th century to house the local mill workers. There were plenty of mills around then.
These houses had the old 'privy' at the bottom of the yard and no bathrooms. People used tin baths in front of' the fire, filled with water from the kitchen boiler or from kettles boiled on the stove. The stairs were very steep, which meant it was easy to fall down them. The keys to the front doors were like big jailhouse iron ones, if somebody had a Yale lock it was reckoned they had something to hide.
It wasn't just the houses that gave the area its reputation. People from outside it said there were a lot of big families, that. The men were big boozers who were unemployed even in the good times and that there was a lot of fighting went on.
But those who knew the area saw it as being very neighbourly where everybody mucked in to help each other. When someone was ill, there were always people to help. If a woman were having a baby, the entire street would muck in. People could leave their doors open while they went shopping and everybody knew everyone else so when a strange face came in the area, they all noticed and this, together with the old 'bobbies on the beat' helped keep any trouble down.
A lot of this neighbourly feeling changed with the move to New Bury. Instead of living right next to each other in the terraced streets, with friends and relations close by, people now had gardens to separate them from each other. Also many 'lived' in the back place which meant they had less contact still, so it became harder to get to know the neighbours really well. What they gained in amenities, such as gardens, running hot water, toilets, bathrooms and extra bedrooms, may have been at the expense of some 'community spirit'. It was also a longer walk back to the shops and pubs of Farnworth town centre.
What was Farnworth centre like before the plague of car parks and super stores? Well Bolton town centre didn't suck everything in then and people didn't have as many cars. So there were a lot more shops (better ones too) and more pubs. There were five picture houses, The Palace (or bug hut) on King Street, the Ritz on Peel Street, the Savoy on Longcausway, the Empire off Albert Road and the Hippodrome on Egerton Street - all gone now.
People might think there are enough pubs now, but there used to be more. There was the 'Bird i'th Hand, at the Black Horse end of town, the Bowling Green, next door to Woolworth's - this had an imposing entrance of two big pillars outside the door, just like those that Sampson pushed down; at the end of King Street was the Horseshoe Hotel, this was classed as a "posh pub" and was knocked down in the late 1960s, the land where it stood is still derelict now after all these years. Another one was the Travellers Rest opposite the Horsham, which later became Edwin P Lees.
While on Brackley Street, there was a pub called the "rozerr mop" by the locals, Asda and its car park swallowed this up. People may be able to remember more.
They may also be able to remember what Brackley Street was like. There was a wool shop, an outdoor beer license and a toffee shop where they made their own toffee. You would get lost 'corner bags' Malley toffee, peanut butter and' coconut ice.
Over the road was a wooden hut where they sold baby clothes and things like that. At the back of this was another wooden hut containing an animal shelter, run by Edna Lomax.
There were a lot of these wooden huts on the old "bottom market" between Brackley Street and King Street. The "top market" was all open stalls. In these there was the likes of Jack Morrison, who sold shoes; and Sadie Mae who sold black puddings, black peas and ran a snack bar as well. It was good coming out of the Palace Cinema (Bug Hut) and getting a black pudding with mustard on to walk home with.
Also on Brackley Street were two shops selling completely contrasting wares. One was a Catholic repository, selling statues, rosary beads and other things to do with the faith. The other was a "dirty book" shop.
For the kids there was 'Old Ma Harrison's' swing boats. She was a permanent feature on market days. Women could leave their kids swinging away, at threepence a go, while they did their shopping. They knew they were safe because she was great with the kids.
Every September there was the "Wakes", or Fair, which came to Brackley Street. It was in two parts. The one for the older end was on some spare ground at the Albert Road end of Market Street. While a smaller one for the youngsters was behind the old King Street Baths. So there was plenty of fun for everyone.
The old baths was next to the Arcade, in front of the old King St Bus Station. This Arcade had two halves with a walk through in between. The shops, from the left, were Clive's toffee shop, a barbers, Old Ma Birches' care, which was open until 10.00 clock at night selling pasties for supper. On the other side of the walk through were a newsagents, a cake shop, and Gladys Little's Hairdressers. At the back, facing the market was a wool shop and Buddies grocers, which was the only place that sold hot —dog sausages in a silver and blue tin. Also at the back, behind the hairdressers was Birches bake house.
Market Street was the main place though. The old Co-op department store was a really good building. It went right along the front, from Brackley Street to near the Queens pub and sold everything. There were different floors selling different things, from toys in the basement to beds, furniture and bank on the top. You used to get 'Divi' then. This was how they shared out the profits. Every time someone bought something, they'd be given a ticket. Then every year they'd get a dividend back depending on the amount of tickets they had. That's all gone now and so has the Co-op.
On the other side of Brackley Street was Bulloughs electrical goods shop, dry cleaners, a cake shop, the Coop coal shop and Woolworths. A woolly had three entrances then and was a lot more popular then because it sold all sorts, bits of things you couldn't get anywhere else, cheap too.
Across the alley next to Woolies was Jet Briggs wet fish shop. He sold all sorts too, like poultry and rabbits as well as fish. The Briggs family lived in Rose Cottage' behind the Black Horse. After that came the Bowling Green, Morris's Pork Butchers (where they still make their own Black Puddings), a newsagents, bank and so on.
On the other side of King Street was the Horseshoe and next-door was Ma Marshall's Snack Bar. There were a lot of these snack bars around then, which was good because it meant people (especially teenagers) had somewhere to go without going in the pubs. After this was Marjorie Roberts dress shop, John Willies furniture shop and Market Street Congregational Church, which got knocked down for Melling's Canteen, also gone now.
We could go on with these shops, but lets just say there's nowhere near as many now. Even Timpson's has gone, along with Fisher Raworth's and Dad and Lads, where families could use their 'club' money to buy their lads clothes. This was where people paid so much a week to a collector who came round to their homes. When there was-so much in, the collector gave the family a piece of paper which could be exchanged for clothes at Dads and Lads.
Having said all this, probably the main thing Market Street will be remembered for, was the 'Monkey Run'. Loads of marriages (and mistakes) were made on this — it was where the lads met the girls. What they used to do was parade up and down between the Black Horse and Farnworth Park. There was even a "posh side", the Black Horse side, and a "rough side", which was (of course) the side where this story started. Either way, the intention was the same. Everyone had a good laugh, with the lads and girls eying each other up, cracking the odd joke and eventually, pairing off together. Then it was down to the park on the "Broadwalk", with some ending up behind the bowling green.
It's a safe bet that many of these couples helped to populate New Bury, which brings us back to the beginning. For this story was meant to be about where some of them come from, what their lives were like, and how they lived them. We hope you enjoyed it.